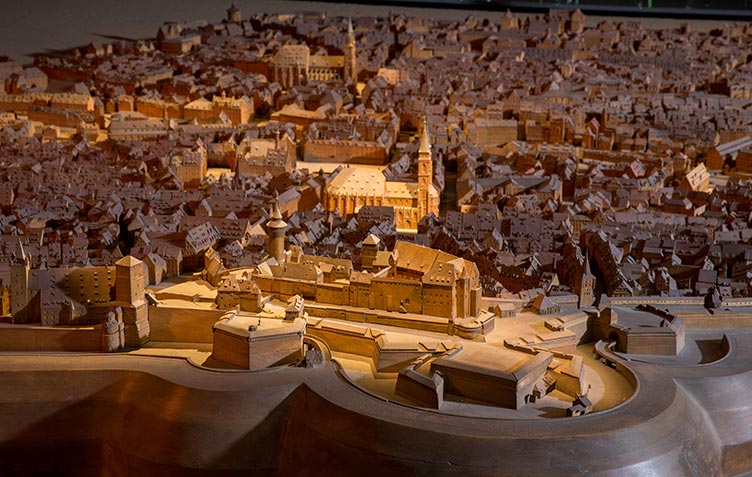 Scenic audio production
Visitors are taken by elevator to the converted top floor, the starting point for their exciting time-travel journey through Nuremberg's history.
Visitors will enjoy experiencing the "Sounding City Model." The center of a darkened room is filled with a linden-wood model of the Old Town of Nuremberg built on a scale of 1:500. The model, fashioned by four master wood-carvers, is among Germany's most precise and detailed city models. After four years of work, it was completed in 1939 and shows Nuremberg as a late mediaeval city before the destruction suffered during World War II.
Selected buildings, streets, and squares are presented in a light and sound show.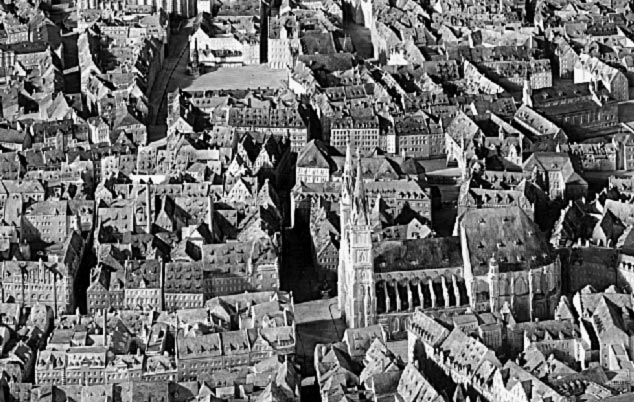 The programme
The programme introduces Nuremberg's Old Town in 12 locations and 12 minutes – including the Imperial Castle, St. Lawrence's Church, the Wine Store, the Peller House, the Jewish quarter, the town wall, the Fembohaus, the Museumsbrücke, and the "Sieben Zeilen" (seven rows of houses).
On their tour through the Fembohaus, visitors will again encounter some of the buildings seen on this virtual city tour.
When the program is over, the room lights come on and the blinds open, allowing visitors a panoramic view of Nuremberg's Old Town. They also have the opportunity to study the model more closely and compare this bird's eye view with Nuremberg's streets today.
Programm: Sounding City Model
12 minutes
German/ English