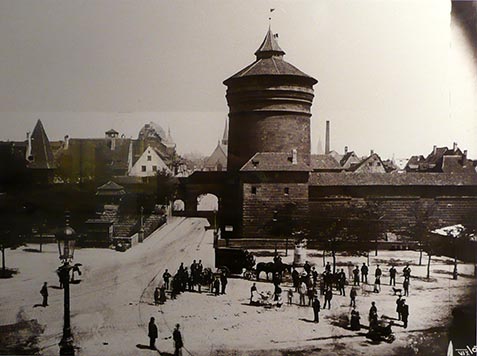 Nuremberg was among the most severely damaged German cities during World War II. The historic Old Town was devastated during 59 air raids, and by the end of the war 90 percent of Nuremberg had been destroyed.
The mediaeval cityscape served as a welcome stage for the political operations "Third Reich". The City of Imperial Diets became the "City of the Nazi Party Rallies". There was no better place for cashing in on the myth of the old German Empire.
The reconstruction of Nuremberg took into account the old cityscape, and the result was a deliberate synthesis of old and new.
A plaster model from 1950 shows the extent of destruction in the city. Photographs document the "Party Rallies" and the destruction and rebuilding of Nuremberg. A comprehensive film program provides more detail, including the reasons for and consequences of the destruction of Nuremberg:
Film program:
The Nuremberg Racial Laws - 15 minutes
Nuremberg During the War - 13 minutes
The Nuremberg Trials - 13 minutes
Nuremberg in the Early Summer, 1946 - 3 minutes
Rebuilding - 2 minutes
Economic Miracle - 5 minutes
Everyday Life in the Post-War Years - 8 minutes