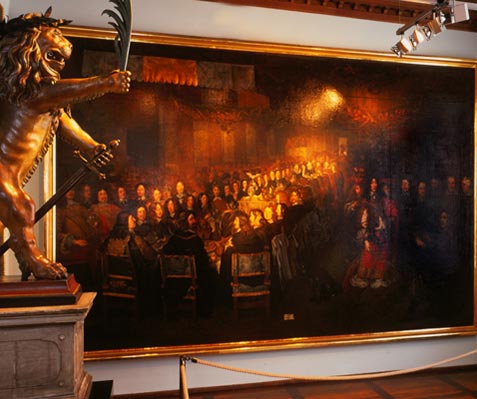 The last room on the second floor concludes the epoch of the Thirty Years' War with the "Peace Implementation Congress" of 1649.
After the peace treaties of Osnabrück and Münster of 1648 (the "Westphalian Peace"), important questions – especially concerning withdrawal of troops – were still unresolved. After several unsuccessful attempts in other cities, these issues were finally resolved in Nuremberg. On September 25, 1649, representatives of the states and churches celebrated the first breakthroughs in the negotiations of this conference of European diplomats at the banquet table.
This event is documented in the monumental historic painting "Peace Banquet" by Joachim von Sandrart (1606-1688), one of Germany's most celebrated baroque painters.
An audio play gives visitors a spectator's view of the banquet, while also describing the population's suffering during the Thirty Years' War.
Audio play: The Peace Banquet of 1649
9 minutes
German/ English