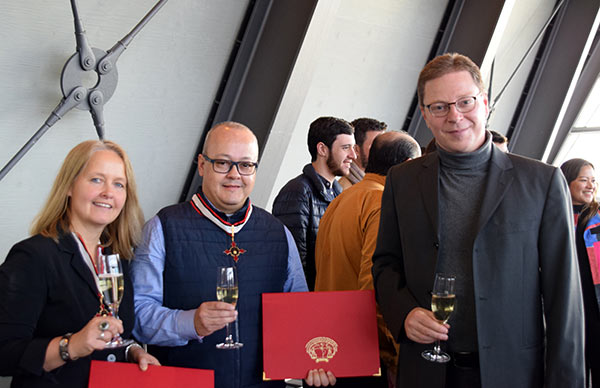 Brazilian judges, lawyers and other jurists are currently visiting the Memorium Nuremberg Trials. the Nuremberg Higher Regional Court, the Department of International Criminal Law at Friedrich Alexander University, and the Documentation Center Nazi Party Rally Grounds, as part of the seminar on International Criminal Law in the Age of Human Rights.
Dr. Astrid Betz, a member of the research staff at the Documentation Center Nazi Party Rally Grounds, will be awarded the Cross of Merit of the International Association of Military Justices on this occasion by Paulo Casseb, the association's current President.
Astrid Betz has been working for many years on how society has dealt with Nazi crimes and how they have been processed in the courts, as well as on human rights and critical reflections on international criminal law. This is the second time that she has joined Flávio de Leão Bastos Pereira in organizing a two-week professional seminar for jurists and law students in São Paulo und Nuremberg.
More information:
www.aijm.com.br