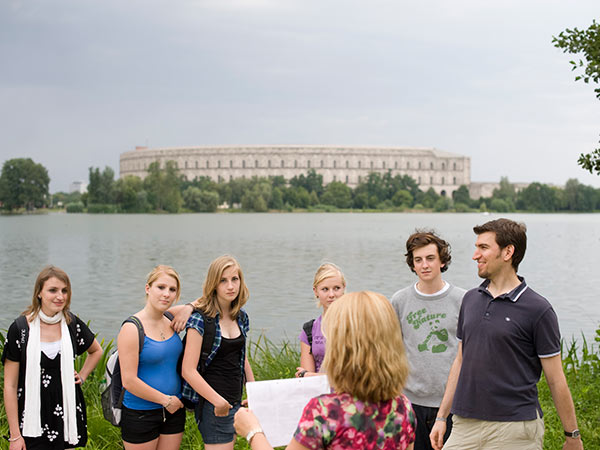 Some of Germany's most important relics of Nazi architecture are located in the south-east of Nuremberg. The incomplete ruin of the Congress Hall, the Great Street, and the remains of the Zeppelin Grandstand still today bear witness to the architectural planning for the Nazi Party Rallies, and to their propagandist dimension.
A tour of the grounds not only explains the megalomaniac architecture which was to serve as a backdrop for the party rallies and the function of the rallies as a gigantic propaganda show, it also explains how Nuremberg has dealt with its Nazi heritage.
Please note
Participation is limited to persons wearing a mask covering nose and mouth. You must provide your own mask. You will need to wear the mask for the entire tour and maintain minimum social distancing of 1.5 meters.
You can reach us at
Contact form
Target group:

young people, 8th to 12th form, apprentices, university students, police, army, adults

Duration:

120 minutes

Participants (max):

15 persons

Partner:
| | |
| --- | --- |
| Price group A, en, fr, es, ru, pl, it: | 70,00 EUR |
| Price group B, en, fr, es, ru, pl, it: | 110,00 EUR |
Price group A = School and university students, young people (up to 18 years of age), apprentices, members of police and German army
Price group B = Adults and tourists