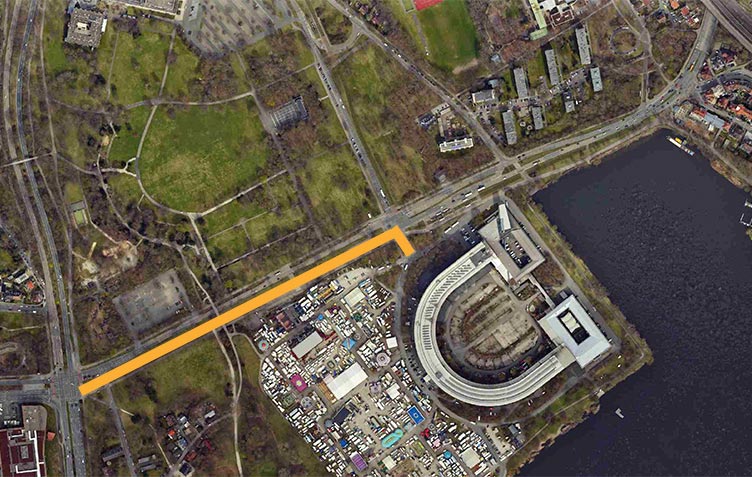 The section of Bayernstrasse between Münchener Strasse and Regensburger Strasse is being completely refurbished. The construction work will be done in several subsections.
Until further notice, cars, buses, and trucks will be able to enter and exit via Münchener Strasse only. There may also be some congestion due to the construction site and single-lane traffic.
This closure will also affect Nürnberger Verkehrs-AG's bus lines 36 (Plärrer–Dokuzentrum), 45 (Frankenstrasse–Ziegelstein), 65 (Röthenbach–Nordostbahnhof) and 55 (Langwasser Mitte–Meistersingerhalle).
The route for line 36 will be shortened. The bus will now run only between Plärrer and Luitpoldhain. Service at the Doku-Zentrum and Doku-Zentrum Nord stops will be suspended for this line.
Line 55, coming from Langwasser Mitte, will go as far as the Doku-Zentrum-Nord stop. Coming from the Meistersingerhalle stop, line 55 will take Münchener Strasse and Bayernstrasse to the Doku-Zentrum stop, and then continue to Langwasser Mitte. Service to the Meistersingerhalle stop in the direction of Doku-Zentrum will be suspended.
Both directions of lines 45 and 65 will use the southern lane of Bayernstrasse.
Going towards Frankenstrasse, the Volksfestplatz and Doku-Zentrum stops will be combined into a single Doku-Zentrum stop that will be located on the median strip west of the intersection between Bayernstrasse and An der Ehrenhalle.
The construction work will not affect the tram lines 6 and 8.