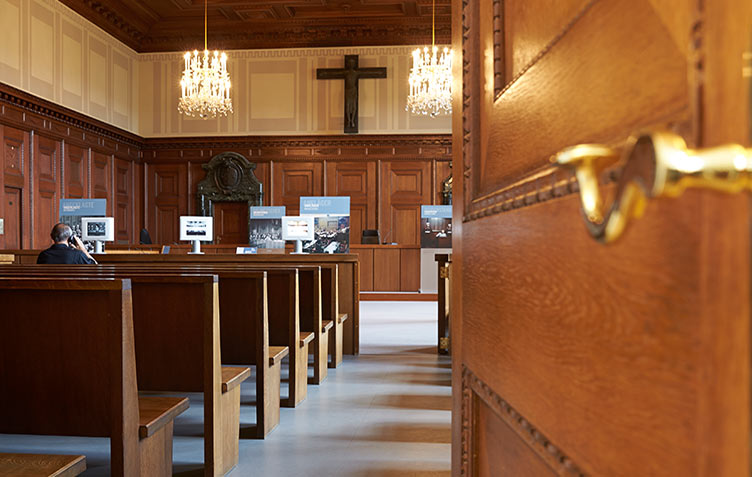 Information about your visit
The Memorium Nuremberg Trials has proved to be so popular that regrettably, even if the incidence rate falls below the figure of 50 set by current state infection-prevention regulations, we must still require advance online registration for visits. One advantage of registration is that you will not need to wait in line when you arrive at the Memorium.
You must register online in advance for every visit, and provide your contact information. This applies even for those who hold an annual admission card.
Current distancing rules limit the number of people who can be present in a museum at a given time.
Please arrive at the Memorium Nuremberg Trials long enough before your reserved time slot runs out to make sure you'll have enough time for your visit.
If you can't show up for your reserved slot, or if you've reserved it by accident, the slot will still remain blocked out and will expire with no replacement. You do not need to cancel by phone or email.
If you purchase an all-day ticket to the Municipal Museums, please remember that you must also still make an online reservation in advance before visiting the Documentation Center at the Nazi Party Rally Grounds.
Important: If our institutions must close because infection incidence rises, the reservations for your time slot will be canceled without replacement. Please check our website before your visit to find out when the Memorium Nuremberg Trials is currently open.
No separate reservation is required for a visit to Cube 600. You can visit Cube 600 with your reservation for the Memorium.
---
Step 1: Registration, reserving a date
Unfortunately, the appointment booking is only available in German.
Registration: You'll be sent to an external site to register. You can register by acquiring what are called "Zero Euro Tickets." These simply reserve your time slot. You will still need to purchase your actual admission tickets at the ticket desk when you arrive at the museum.
Visit date: First choose the date when you want to visit.
Number: You can reserve entry under "Number" for no more than 5 persons at a time.
Important: Please remember to register all children too, regardless of their age.
Make a reservation: Click on "Reserve."
Register:Please register before you book your date (see the "Login" button at the upper right)
Reserve now: Complete your reservation. You'll get a confirmation email with your registration code(s).
Please be sure to bring along your registration code(s), in digital form or as a printout, to present at the museum ticket office.
---
Step 2: Buying a ticket, paying
Admission tickets are sold only directly on site, at the museum ticket desk.