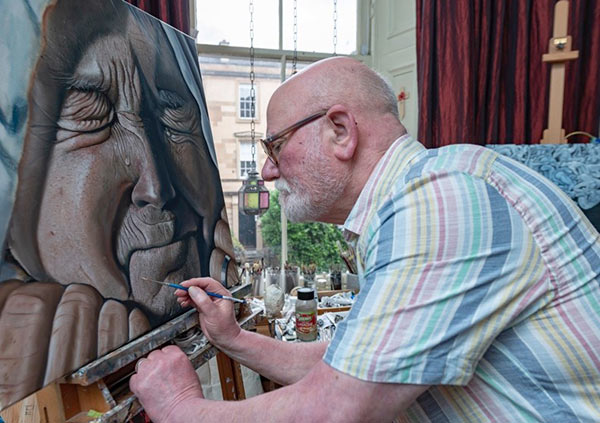 Thursday, 21 November 2019, 7 p.m.
Lecture and Artist Talk with Robert McNeil
On November 20, 2019 is the 74th anniversary of the opening of the International Military Tribunal in Nuremberg. Already during the Second World War, forensic crime scene analysis was crucial for collecting evidence in order to conduct the Nuremberg Trials. The International Tribunal for the former Yugoslavia continued this tradition.
The forensic technician Robert McNeil was working in the conservation of evidence for this tribunal: In 1995, he went to Srebrenica with a team of international experts and gathered evidence to bring the massacre, which was later classified as a genocide, before the tribunal. In a lecture, he will speak about his work and the importance of forensic evidence for international courts. After his retirement, the memories of this time were vivid and he decided to meet them through art. In a talk with Rebecca Weiss, research associate at the Memorium Nuremberg trials, he is will speak about his paintings and his personal approach to keeping memories alive.
Event location
Memorium Nürnberger Prozesse, Court Room 600
Bärenschanzstr. 72
The lecture and the talk will be conducted in English language. There will be a German translation available.
Please let us know if you want to participate by telephone (0911) 231 - 28 614 or via email
memorium@stadt.nuernberg.de
Cost:

Free of charge