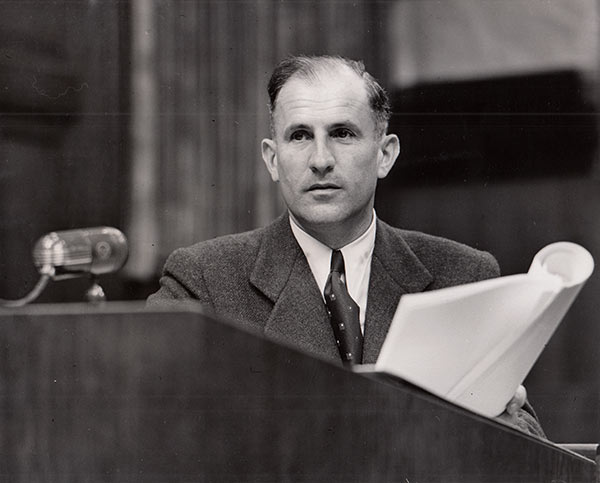 Thursday, 11 April 2019, 7 p.m.
The eleventh case of the twelve Nuremberg Follow-Up Trials was not only the longest. In some manners, it even outperformed the International Military Tribunal against major war criminals and with it, because of its duration, the Follow-Up Trials in Nuremberg ended.
Among the defendants were Ministers of the "Reich", high-ranking members of the Ministry of the Interior, the Propaganda Ministry, the state economy, the SS and the Foreign Office. The historian Prof. Eckart Conze of Marburg University will classify the trial in a historical context and compare it to other developments within the punishment of war crimes and crimes against humanity after the Second World War. He will put a special focus on the responsibility of the Foreign Office and its officers for the crimes committed by the National Socialist state.
After that, Henry Mayer, chief archivist of the United States Holocaust Memorial Museums, will talk about the estate of Robert Kempner. Kempner was the American prosecutor mainly dealing with perpetrators in the diplomatic service. Mayer collected this estate for years and exploited it. He will tell about this comprehensive and enthralling project.
The event will take place in English and German language. Henry Mayer will conduct his speech in English language.
Event location
Memorium Nürnberger Prozesse, Court Room 600
Bärenschanzstr. 72
Please register for the event by telephone (0911) 231 - 28 614 or via e-mail
memorium@stadt.nuernberg.de
Cost:

There is no entry fee.