Museum for Industrial Culture is open for your visit. Please find all information regarding your visit, mask and COVID-certification requirements as well as contact tracking here
Information about your visit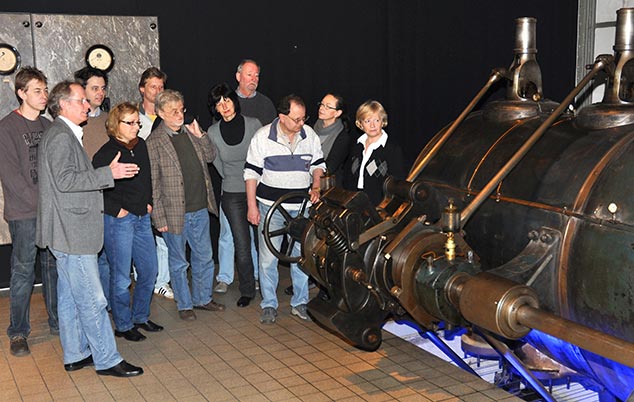 Touring the museum
Reserving group tour
A tour brings you face to face with the immense changes that our modern life has undergone as a result of developments in the last 200 years. The hall of a former screw factory now houses a large collection of original objects, reconstructions and assemblages that illustrate life and work in the industrial age. A steam engine, Hercules bicycle and horseless carriage demonstrate urban development in Nuremberg. Technical achievements like PCs, the invention of the mp3 and a robot that's useful in motor production bring the story down to the present. At certain points along the timeline, worthwhile detours round out the diverse portrait of the city's history – because there's also a lot to see about Nuremberg's folk festivals, beer-brewing culture and enthusiasm for sports.
Duration:

60 minutes

Costs:

EUR 85 plus museum admission per person
A higher tour fee is charged for tours outside regular opening hours.
Information and reservations
Kunst- und Kulturpädagogisches Zentrum der Museen in Nürnberg (KPZ)
(The Nuremberg Museums' Center for Education in the Arts and Culture)
Department II: Adults and Families
Tel. +49 (0)911 13 31 - 238
Fax: +49 (0)911 13 31 - 318
erwachsene@kpz-nuernberg.de