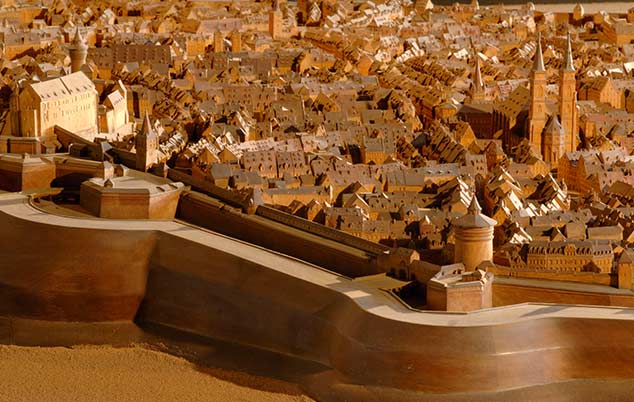 What are the Nuremberg Municipal Museums?
The Nuremberg Municipal Museums are a network of seven museums, two historic places of interest, and a variety of collections. Taken all together, these locations offer a "walking tour of the city's memory." They present nearly 1000 years of history in the places where the events actually happened:
The Documentation Center Nazi Party Rally Grounds and Memorium Nuremberg Trials have established museum exhibits at the actual locations of events, and make an important contribution toward understanding and coming to terms with the history of the National Socialist era.
Albrecht Dürer's House is the only surviving Renaissance artist's house north of the Alps. In addition to the historic structure itself, the Graphics Cabinet and Dürer Room offer visitors vivid insights into the life and work of the city's most famous artist.
The world-famous Toy Museum offers a view of the world in miniature: dolls, shops, toys of metal and wood, and more. Miniature tin figures document Nuremberg's major role as a toymaker and toy seller over the centuries. The German Games Archive in Nuremberg has endowed the city with one of the most extensive collections of post-1945 board games in German-speaking Europe.
The first trip of the "Eagle," Germany's first railroad train, in 1835 marked the start of the country's industrial age. The Museum of Industrial Culture provides lively documentation of the everyday work world right down to the structural changes of the present.
The City Museum at the Fembo House, a merchant family's large Late Renaissance home, offers impressive historic rooms along with an overview of the city's history. The world of the city's governing "patrician" class comes to life at the Tucher Mansion Museum and Hirsvogel Hall, with their Renaissance garden.
The 14th-century Medieval Dungeons under the City Hall bear imposing witness to how the law operated in the past. The Historic Art Bunker sheltered the city's most important art treasures from the air raids of the Second World War.
For general information about the Nuremberg Municipal Museums, please don't hesitate to contact us:
Museen der Stadt Nürnberg
Hirschelgasse 9-11
90403 Nürnberg
Tel. +49 (0)911 231 - 54 21
Fax +49 (0)911 231 - 54 22
Contact form
You can find out more about the individual Museums – such as their addresses, hours, and accessibility options – under their own names.