"Back to Dürer" – this is the motto of Albrecht Dürer's House, presenting the living and working quarters of the great artist, Albrecht Dürer (1471-1528). The museum shows all facets of Dürer and his work. A tour takes visitors through all four floors of the house which was Dürer's residence between 1509 and 1528. A particular attraction: the large painting and printing workshop from Dürer's time where artistic techniques are demonstrated.
Press release (PDF-File 52 KB)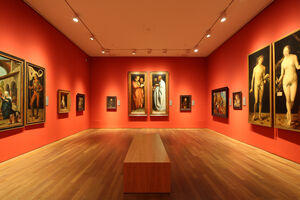 The Dürer Room with historic copies of Albrecht Dürer's principal paintings.
Use is authorized subject to inclusion of the following attribution:
Picture credit: Nuremberg Municipal Museums, Albrecht Dürer's House; Photo: Stefan Meyer
Download (2.73 MB)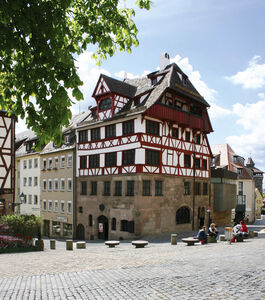 Albrecht Dürer's House below Nuremberg Imperial Castle.
Use is authorized subject to inclusion of the following attribution:
Picture credit: Nuremberg Municipal Museums, Albrecht Dürer's House; Photo: Christine Dierenbach
Download (1.05 MB)