Nuremberg's only surviving large Late Renaissance merchant's house – halfway up the hill to the Imperial Castle – invites visitors to experience a trip through the city's past. Priceless original rooms, staged settings and audio plays bring 950 years of Nuremberg's history to life. The museum's Exhibition Forum, with its changing presentations, is a showcase for the city's history, art and culture.
Press release (PDF-File 46 KB)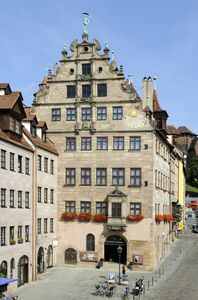 The impressive façade of Fembohaus.
Use is authorized subject to inclusion of the following attribution:
Picture credit: Nuremberg Municipal Museums, City Museum at Fembo House
Download (923.10 KB)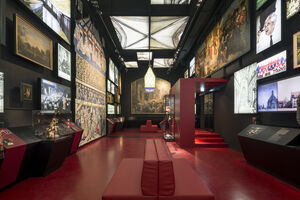 A view of the new "A Crown – Power – History" exhibition.
Use is authorized subject to inclusion of the following attribution:Picture credit: Nuremberg Municipal Museums, City Museum at Fembo House; Photo: Stefan Meyer
Download (2.86 MB)