The building opened in 1971 in the heart of Nuremberg – a city of toys for more than 600 years. Nuremberg's tradition extends from medieval doll makers to later makers of tin figurines and metal toys, to today's International Toy Fair. In its 1400 square meters (15,000 sq. ft.) of exhibition space, the Toy Museum displays "the world in miniature," with dolls, doll-sized shops, tin figurines, toys in metal and wood, and a very large model train layout.
Press release (PDF-File 81 KB)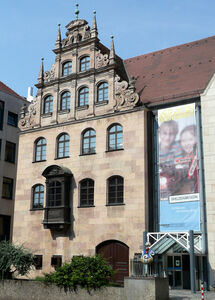 The Toy Museum's Renaissance façade.
Use is authorized subject to inclusion of the following attribution:
Picture credit: Nuremberg Municipal Museums, Toy Museum; Photo: Brigitte List
Download (2.09 MB)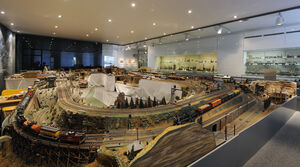 The Omaha model train layout covers around 30 square meters (323 sq. ft.).
Use is authorized subject to inclusion of the following attribution:
Picture credit: Nuremberg Municipal Museums, Toy Museum; Photo: Uwe Niklas
Download (3.29 MB)