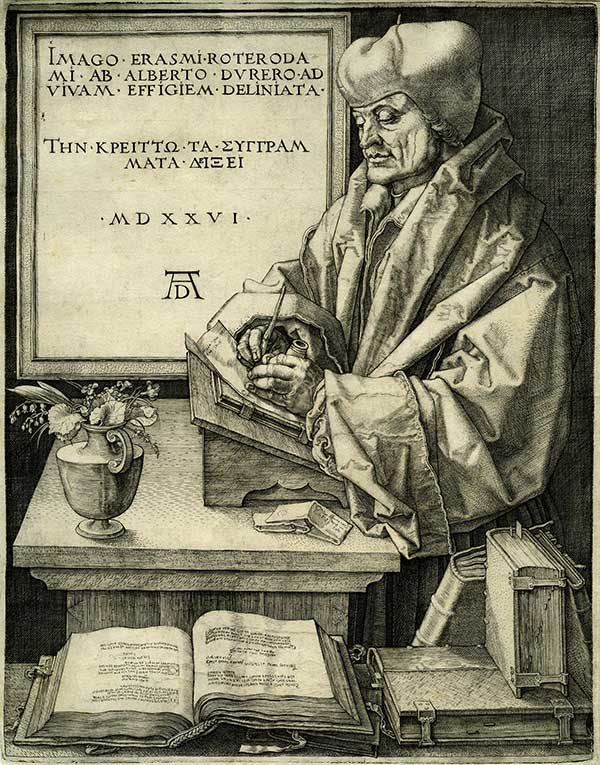 "Deep blacks" – "clean" – "sharp" – "high-contrast" – these and similar terms tend to be used in describing the condition of outstandingly fine prints. And if the copper engravings and woodcuts are half a millennium old – as they are in the case of Albrecht Dürer (1471–1528) – those characteristics of course take on even greater value. Another criterion for such unique works is their untouched original condition – without repairs, retouching or cleaning. All these superlatives apply to one of the most important art donations that the City of Nuremberg has ever been privileged to receive.
The gift includes a total of 106 copper engravings and etchings and 37 woodcuts by the Nuremberg master. Especially in the near-complete set of copper engravings, the collection boasts examples of the full range of his work in graphics between 1495 and 1526. This is especially important for an artist like Dürer, whose preferred mode of expression was the line, especially as manifested in copper engravings. And this importance grows even further when we recall that over the centuries, the former Imperial City has lost virtually every one of Dürer's paintings that once belonged to it. All that remains in his native town are the two portraits of emperors, now on loan and on exhibit at the Germanisches Nationalmuseum, which is also home to a large portion of the city's Dürer graphics.
Gathering this splendid collection was the hobby of Nuremberg industrialist and honorary citizen Karl Diehl (1907–2008), who began collecting in the 1960s. In addition to the greatest possible completeness, especially in copper engravings, he was particularly interested in finding early, undamaged prints taken from the still-pristine plate. His collecting was guided most of all by the internationally famed Kistner art dealers in Nuremberg. The process involved a certain degree of fluctuation, because on a number of occasions he was able to replace fine pieces with even finer ones, often from other famous collections. In this way he accrued a portfolio of Dürer's works whose quality can stand comparison with the world's great museums.
At the request of Diehl's heirs, the fruits of his passion for collection were made accessible to the public in April 2016.
A first exhibition was opened by King Willem Alexander and Queen Máxima of the Netherlands on April 14, 2016, and kept selected works on view until August of that year.
A noble background
Much of the Diehl Collection comes from the former holdings of the Dukes of Arenberg, who had been established in the Rhineland and what is now Belgium since the high Middle Ages. The earldom of these loyalists to the Habsburg imperial family was raised to a duchy in 1644. At the Palais d'Arenberg in Brussels, it was especially Duke Engelbert Maria (1872–1949) who gained repute as a graphics collector. A first great sale of drawings, copper engravings and woodcuts took place back in 1902. Further sales of art followed the German defeat in World War I, when the family lost all its property in Belgium. Since that time, the family's holdings have been concentrated in Westphalia. After the last war, especially in 1955, another group of very fine Dürer graphics from the ducal holdings came onto the market.
Other historic collections from which Karl Diehl acquired prints by his Nuremberg compatriot were those of Paris artist-collector Pierre-Jean Mariette (1694–1774); Aachen doctor and politician August Sträter (1810–1897); Zurich banker and significant economist Felix Somary (1881–1956); and American collector and art patron Lessing J. Rosenwald (1891–1979). Further pieces come from the former holdings of the Dukes of Devonshire and the Earls of Northwick.
Questions of quality
Besides an illustrious provenance, the criteria for the quality of a printed work include
an early, uniform "pull" from the copper plate or wood block – i.e., the print was taken before the plate or block had suffered mechanical damage or typical wear.
a complete border line – meaning one without interruptions – or a clearly recognizable impression of the edge of the print plate or block.
a good state of preservation, as free as possible from later additions, retouching, or especially cleaning ("washing").
a watermark, clearly recognizable in backlighting – a way for paper manufacturers to identify their "branded product" before it was processed further.
The Dürer prints in the Diehl Collection satisfy a great many of these criteria, and in some cases all of them.