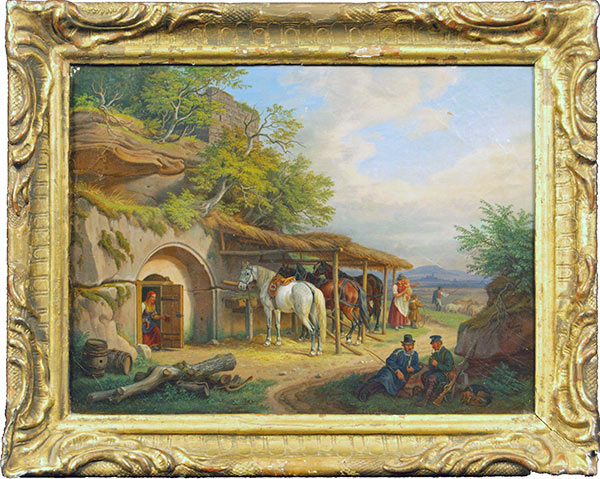 Johann Adam Klein
1864
oil on canvas
The left half of the picture is dominated by a cliff on which, between the trees, we can see the stump of a castle tower. At the center of the picture, built up against the cliff, is a straw-roofed lean-to under which a white riding horse and two brown draft horses are stabled. To the left, a door leads into a tavern cut into the cliff, from which a hostess or maid is emerging, carrying two steins of dark beer. In half-shadow to the right, a wagon driver with a whip and a hunter with flintlock and dog take a rest, smoking. In the background, a woman carries a small child, with another child beside her with a hoop. They watch a shepherd herding his sheep farther to the rear. In the far distance, we can see the silhouette of Nuremberg, with the castle to the right and the Moritzberg behind it. The atmosphere is that of a sunny day.
The area around the Alte Veste, a ruined fortress near Zirndorf, was the scene of a bloody battle in the 17th century between the Imperial army, led by Wallenstein, and the Swedish troops under King Gustav II Adolph (1632). The resulting devastation, famine and plague caused some 35,000 deaths in Nuremberg and its environs. But the picture shows nothing of this. The ruined castle has been a popular site for excursions since the 19th century.
Purchase from private Nuremberg owner.