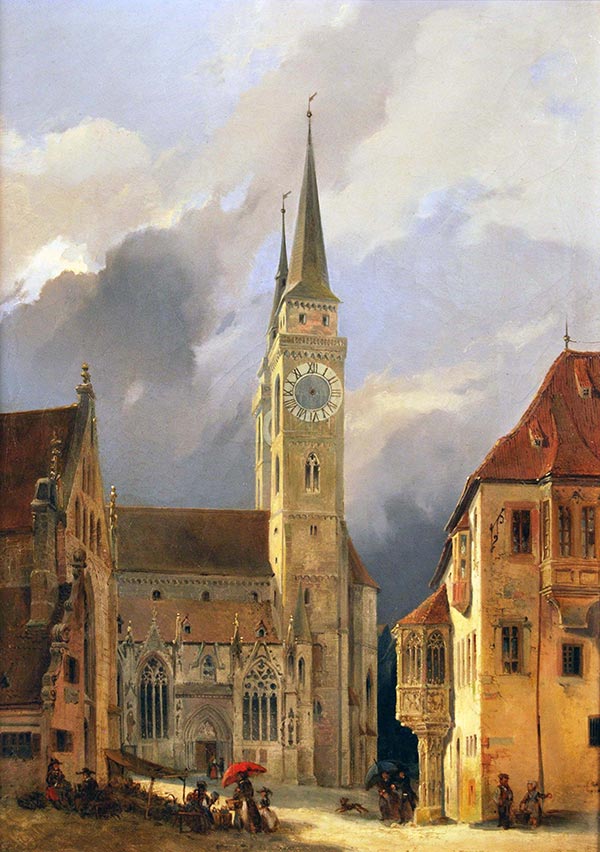 Michael Neher (1798-1876) (attributed)
around 1850
oil on canvas
The picture shows Sebalder Platz and Nuremberg's St. Sebald's Church. To the left we can see St. Moritz's chapel, which was destroyed in World War II, with the "Bratwurstglöcklein," a popular restaurant, leaning up against it. The parsonage of St. Sebald's is to the right.
By its style and interpretation, the painting is attributed to Michael Neher (1798-1876), a gifted Munich painter of picturesque cityscapes and landscapes. The somewhat stormy atmosphere, the warm sunlight arriving from behind, the intimate framing of the view, the subordination of the very small accessory figures, the genre-like aspects of the scene, the exact observation of buildings and their atmospheric incorporation into an overall mood – all of these characteristics also appear elsewhere in this painter's works. Neher traveled extensively and painted cityscapes of many towns: Prague, Bern, Basel, Freiburg, Andernach, Michelstadt, Reutlingen, Munich, Magdeburg, Donauwörth, Regensburg, and more.
The artist planned the painting as a clock face – the prominent tower clock in the picture was originally supposed to accommodate a clockwork mechanism with hands. But no clock was ever installed.
Purchase from a private Regensburg owner.