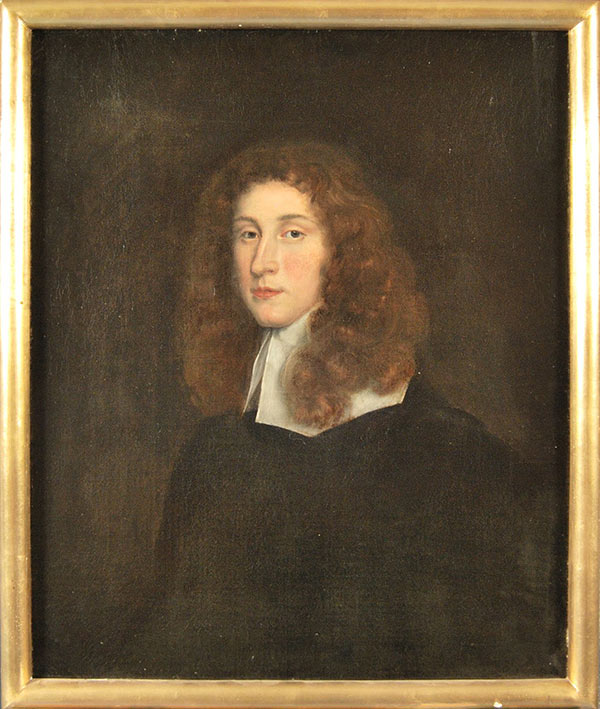 Justus Sustermanns
around 1620(?)
oil on canvas
Johann Philipp Geuder, known as Rabensteiner (1597–1650), son of a Nuremberg patrician family, was a high official of the Free Imperial Knights and for the Counts of Löwenstein-Wertheim, a cavalry captain for the Swedish army in the Thirty Years' War, a councilor in Anhalt and Brandenburg, and then Director of the imperial knights' Franconian, Swabian and Rhenish Circles.
This portrait may have been painted in 1619 on the occasion of the 22-year-old Geuder's marriage to 17-year-old Isabella Schott von Schottenstein, which provided Geuder with an entrée into the nobility. Through his second marriage, with Anna Elisabeth Rabensteiner von Dölau, he founded the Geuder-Rabensteiner line, whose coat of arms has been glued to the back of the painting. The coat of arms was not granted officially until 1693, to his son, Philipp Carl. For that reason, it is not impossible that the portrait may show one of Johann Philipp's sons. The Rabensteiner family were the owners of the Green Castle (Grünes Schloss) in Heroldsberg.
Justus Sustermanns, Court Painter to the Medici
Justus Sustermanns (1597–1681) was a significant Baroque portrait painter from Antwerp, who was appointed court painter to the Medici in Florence in 1620. Many of his contemporaries considered him the best portraitist in Italy; he also painted portraits of the Imperial family in Vienna. The painting is attributed to him on stylistic evidence.
The painting was acquired from a Rhenish private owner in February 2016 and comes from Utzmannsbach Castle near Simmelsdorf.