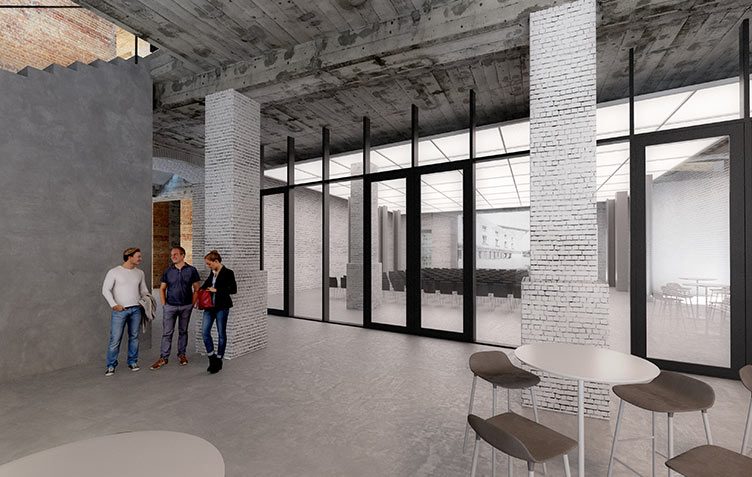 Work is planned on four functional areas of the building:
1. Expansion of the educational and events area
Construction of a multifunctional events zone with up-to-date media equipment for conferences, seminars, lectures and specialists' events
Creation of a media and research center for individual visitors and groups
The aim is to build further on the concept of the previous study forum to create a "Forum for History and the Present." An infrastructure will be developed that combines multimedia and interactive display formats with topics relating to both past history and the present day. In the media and research center provided for the purpose, learning content will be developed with an eye to thematic range, linguistic and cultural diversity, and inclusion for socially and culturally disadvantaged groups of the population, enabling visitors to learn and reflect on their own about the history of National Socialism. A more in-depth focus on the learning modules, including interaction with the educational staff and within visitors' own group, will help visitors remember the knowledge they acquire for themselves. The facilities will be completed with a multifunction room (events/ seminars/ cinema) for up to 200 people.
2. Updating and expanding the exhibition areas
Setup of previously unused areas for Special Exhibitions
Expansion of space for the Permanent Exhibition
Improvement of barrier-free access
The institution is expanding the spaces already available for the Permanent Exhibition and Special Exhibitions to reflect the accumulating body of knowledge about the site's overall history, as well as the new questions that are being raised about what the National Socialist and fascist past signify for Europe's societies today. The primary aim of a renovated Permanent Exhibition will still be to document knowledge about the political functioning and social practices of National Socialist propaganda, using the Nazi Party Rally Grounds as an example, and also to present certain aspects of the area's historical and present-day topography. In addition, Special Exhibitions will be able to establish links in various formats to the world we live in today, and to highlight how analyzing historical examples can offer a relevant way to situate current political and social conflicts within a critical context.
3. Updating and expanding the general visitor area
Expansion of service and foot traffic areas (lobby/ food service) with special attention to barrier-free accessibility
Refurbishment of building systems to deal with higher visitor volume
The food service to be set up in the new ground-level entry area to the Documentation Center, along with the multifunctional room, highlights our desire to open up the institution to residents of the city and region above and beyond our established tasks of exhibition and education. As a symbolic site with which many Nuremberg citizens identify, the building will also be available for leisure-oriented visitors to the site, and for non-commercial cultural events.
4. Creating functional areas for scholarly work
Creation of storage areas and working areas for exhibit preparation
Creation of office and break spaces for research & curatorial staff
Creation of a library for the field
The institution's contribution to scholarship is evident from the growing number of events and projects that it conducts in cooperation with academically oriented partners. The Documentation Center has also become known throughout Southern Germany as a collection site for historical objects and publications from the National Socialist era. To explore and better understand existing holdings of historical objects, books and photographs, for both research and educational purposes, plans call for creating work spaces – which until now have not existed – for permanent and outside research and curatorial workers.