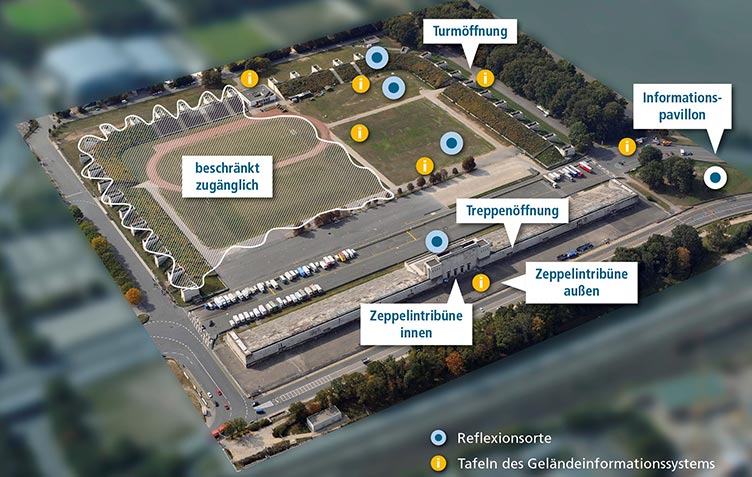 The Zeppelin Field and its Grandstand are primary symbols of the concept of the exclusionary "community of the Volk," but also stand for additional aspects like militarization, "German labor," rigid definitions of social roles, and the use of architecture as a way of subjugating participants and onlookers to Hitler's personality cult. As an exhibit that can be walked on and walked into, the area also makes it possible for visitors to follow a path in which they can experience and confront the Nazi past and the post-1945 relics of its structures. Additional information will also be provided about the history of the area before 1933 and its uses and significance during the National Socialist era.
The area's established everyday uses will continue, and be intensified with new approaches. A compact exhibit in the central structure of the Grandstand, a reopened staircase inside the Grandstand, and an accessible tower in the walls surrounding the field will offer a more in-depth encounter with historic locations in this area.
In addition to historical information, new kinds of points for reflection will be installed, under the general theme of "What's that got to do with me?" The hope is that they will encourage visitors to reflect on what they've seen in terms of how it relates to their own worlds. Other new additions include a further development of the site's information system and a comprehensive range of media services, as well as an expansion of access to the area.
A central focus will be a new information pavilion to the side of the Zeppelin Field. It will provide basic facts and information about ways of visiting this segment – itself measuring some 180,000 square meters (more than 44 acres) – of the historic Nazi Party Rally Grounds.
The Zeppelin Field will be open partly with and partly without restrictions. Information about its size and functions will be provided for event participants and onlookers. The double use of the site as a leisure and sports venue is an integral part of the concept, and will regularly allow for individualized forms of democratic uses of the site. Extensive parts of green areas that have been unavailable for decades will be reopened and returned to public use.