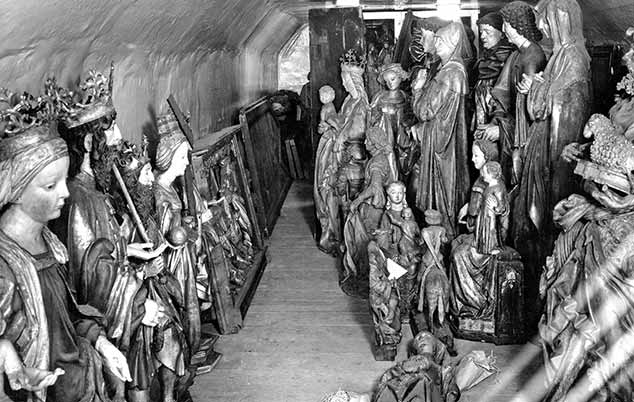 Beneath 24 Meters of Rock
This "illicit installation for art," parts of which go down 24 meters under Castle Hill, provided a safe, bomb-proof shelter for not only a number of precious objects from other cities, but also world-famous Nuremberg art treasures, including:
Veit Stoss's "Annunciation" from the Lorenzkirche
The "Männleinlaufen" mechanical clock from the Frauenkirche on the Main Market Square
The most important sculptures from Nuremberg fountains
Various altars and stained glass windows
The choir stalls from every Old Town church
Veit Stoss's Lady Altar from Krakow (a stolen art treasure)
The Manesse Codex, a medieval songbook from the Heidelberg University Library
From Museums and Archives
For safety's sake, the most precious art works kept in the city's museums and archives were also transferred in good time to the Art Bunker. They included:
Paintings, graphics and writings by Albrecht Dürer
The oldest surviving world globe, made by Martin Behaim in 1492
Many scientific instruments and timepieces, including the "Nuremberg Egg," the first pocket watch, made by master clockmaker Peter Henlein in the sixteenth century
Weapons and armor
Documents, deeds and manuscripts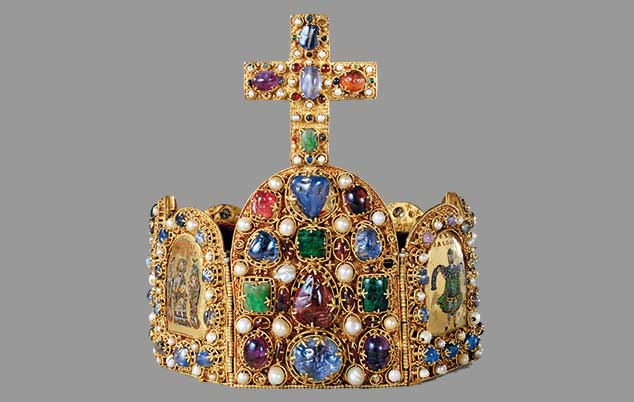 The Imperial Regalia
In 1424, Emperor Sigismund granted Nuremberg the privilege of storing the priceless Imperial Regalia – the orb, scepter, imperial ("Mauritius") sword and ceremonial sword, the imperial reliquaries and coronation clothing of the Holy Roman Empire – "for all time, irrevocably and irrefutably." To save the regalia from Napoleon's victorious French army in 1796, they were first moved to Regensburg and then onward, secretly, to Vienna.
By order of Adolf Hitler, the regalia were brought back from Vienna to Nuremberg – the "City of the Nazi Party Rallies" – in 1938, before the war began. Here they were kept on exhibit in the Katharinenkirche. In 1945, American soldiers found the regalia in the Art Bunker, and on January 4 and 5, 1946, they returned them to the Hofburg in Vienna.
Today, reproductions of the principal regalia – the crown, scepter and orb – can be seen in the Fembo-House in Nuremberg.