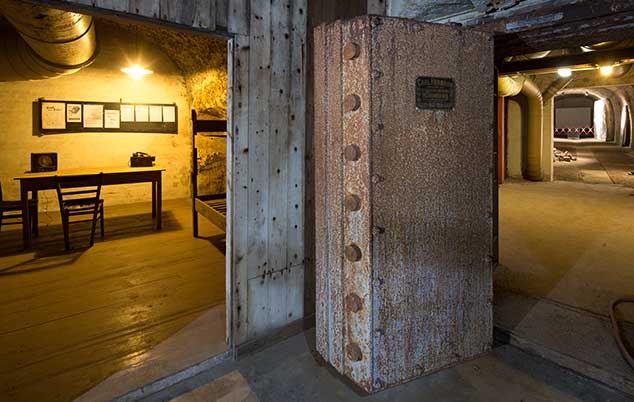 The guided tours to this bunker installation, which is without parallel in Germany, focus on protecting art from air raids, the near-complete destruction of Nuremberg in World War II, and rebuilding the ruined city.
The city's most important art treasures survived the war's heavy air raids by taking shelter deep in the bedrock of Castle Hill.
Shortly after the war began, ancient rock cellars – former beer storage cellars immediately under the Castle – were turned into a shelter facility unlike any other in Germany, under extremely difficult conditions. The bunker protected irreplaceable works of art from fire, smoke, gas and looting, thus preserving them for later generations.
An ingenious drainage, heating and ventilation system ensured optimum conditions at depths of as much as 24 meters. The installation even included rooms and facilities for the guard staff.
Famous Nuremberg works like Veit Stoss's "Annunciation" from the Lorenzkirche, the Imperial Regalia, and the "Männleinlaufen" mechanical clock from the Frauenkirche on the Main Market Square were hidden away safe from bombs in the Art Bunker.
A large portion of the Art Bunker's original structures, including rooms for the guard staff, can still be seen today.
Photographic documentation and original film and sound recordings recall the air raids that destroyed medieval Nuremberg, and the postwar rebuilding of the city.