Guided tours of the World War II Art Bunker will resume on May 30, 2020.
The following anti-coronavirus protective measures are in effect for the guided tours: A maximum of eight people may participate. Participants must wear a mouth-nose covering (you must bring your own) throughout the entire guided tour. Everyone above age 6 must wear a mask, and all must maintain social distancing of at least 1.5 meters. The name and phone number of every participant must be documented.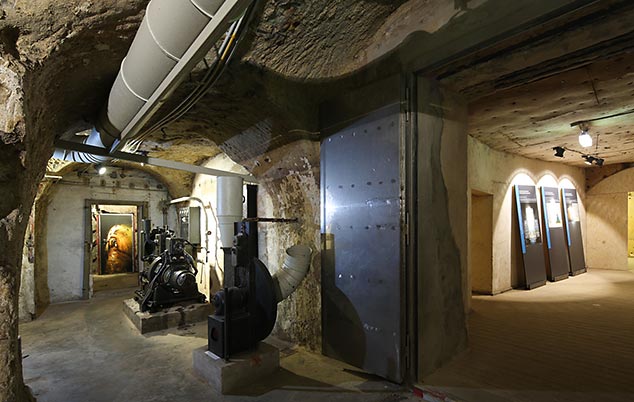 Regular hours
Monday to Thursday
2:30 p.m.
Friday
2:30 p.m. and 5:30 p.m.
Saturday
11:30 a.m., 2:30 p.m. and 5:30 p.m.
Sunday
11:30 a.m. and 2:30 p.m.
Saturday
Guided tour in English
3:30 p.m.
The Art Bunker can be visited only on guided tours.
For more information, look under
Guided Tours
Special hours for holidays in 2020
3 October (Day of German Unity)
11:30 a.m., 2:30 p.m. and 5:30 p.m.
3:30 p.m. (in english)
1 November (All Saints' Day)
11:30 a.m. and 2:30 p.m.
24 December (Christmas Eve)
closed
25 December (Christmas Day)
2:30 p.m. and 5:30 p.m.
26 December (Boxing Day)
11:30 a.m., 2:30 p.m. and 5:30 p.m.
3:30 p.m. (in english)
31 December (New Year's Eve)
closed