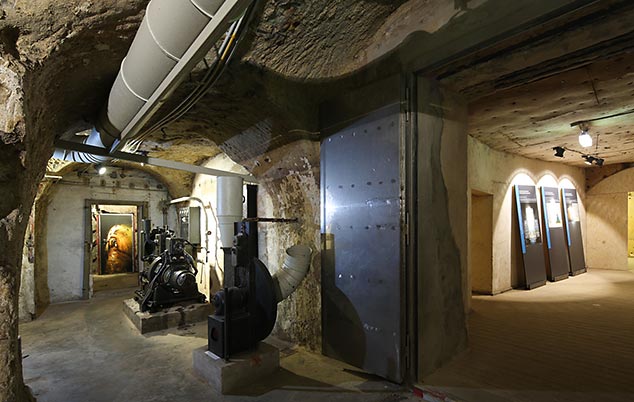 Please note:
Guided tours are again taking place in the World War II Art Bunker. The following anti-coronavirus protective measures are in effect for the guided tours: A maximum of eight people may participate. Participants must wear an FFP2 mask or a mask of at least an equivalent standard throughout the entire guided tour. Children under age 5 do not have to be masked. Older children below the age of 16 may wear a conventional medical mask instead. Please bring your own mask, there are no masks available in the Art Bunker. All must maintain social distancing of at least 1.5 meters. The name and phone number of every participant must be documented.
Regular hours
| | |
| --- | --- |
| Monday to Thursday | 2:30 p.m. |
| Friday | 2:30 p.m. and 5:30 p.m. |
| Saturday | 11:30 a.m. and 2:30 p.m. |
| Sunday | 11:30 a.m. and 2:30 p.m. |
The Art Bunker can be visited only on guided tours.
For more information, look under
Guided Tours
Special hours for holidays in 2021
| | |
| --- | --- |
| 3 October (Day of German Unity) | 11:30 a.m. and 2:30 p.m. |
| 1 November (All Saints' Day) | 2:30 p.m. |
| 24 December (Christmas Eve) | closed |
| 25 December (Christmas Day) | 11:30 a.m., 2:30 p.m. and 5:30 p.m. |
| 26 December (Boxing Day) | 11:30 a.m. and 2:30 p.m. |
| 31 December (New Year's Eve) | 2:30 p.m. and 5:30 p.m. |