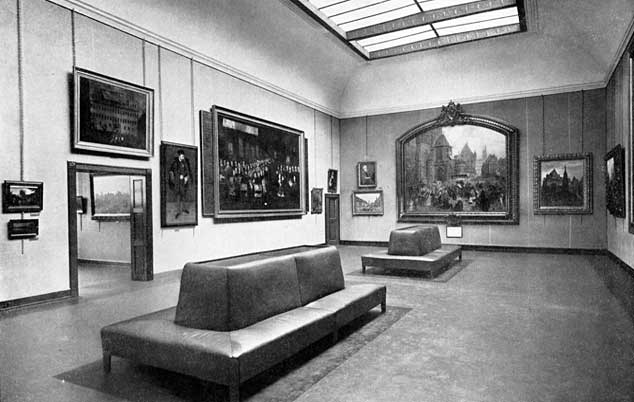 Between 1884 and 1889, the City of Nuremberg had a new city hall built on Theresienstraße. The offices in the new city hall were lavishly furnished with paintings and sculptures, including pieces loaned by the Germanisches Nationalmuseum, some returned pieces from the municipal collections which had been loaned elsewhere, and some new acquisitions.
Between 1890 and 1908, the City could again record a significant increase in paintings and sculptures in its collections. This was mainly due to donations and gifts. Since housing the collection in the city council offices posed increasing problems, after 1910, a large part of the collection was on display in the "Artists' House". But by 1920, this space proved to be too small again, and the collection had to be divided up. Works by Nuremberg and Franconian artists were taken out of the stocks of the Municipal Art Collection. The remaining paintings were then exhibited in the Artists' House under the heading "Municipal Gallery".
In the 1920s, the then Lord Mayor, Dr. Hermann Luppe, again increased the City's collecting activities, purchasing paintings and sculptures by artists who were fashionable in those days, also including works by international artists, but mainly works by German artists. The highlights of this collection included works by Karl Schmidt-Rottluff, Hans Purrmann, Wilhelm Trübner and Otto Dix. The collection was finalised in 1968.