Due to the current spread of coronavirus (Covid-19), World War II Art Bunker is closed. All events and educational programs are cancelled until further notice. Please check our website for latest information.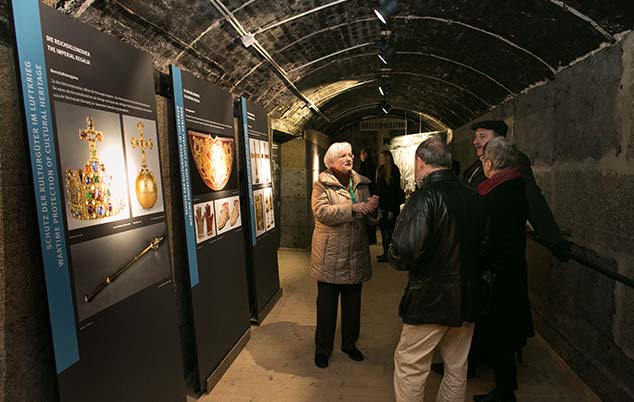 The Art Bunker offers guided tours daily for visitors who are not part of a group. You can find the tour schedule at
Hours
Tickets
Ticket machine at the entrance to the Historic Art Bunker, Obere Schmiedgasse 52
Advance Ticket Sales
Museum Shop at Albrecht Dürer's House, Albrecht-Dürer-Straße 30
Tourist information counter at the Main Market Square, Hauptmarkt 18
Tourist information counter at the Central Train Station, Königstraße 93 or online at
www.felsengaenge-nuernberg.de
In addition to these regular tours, the Verein Nürnberger Felsengänge e.V. will be happy to organize special tours for groups of up to 25 persons at other times, in German, English, French, Italian, Spanish or Czech.
You can find out more at
Verein Nürnberger Felsengänge e.V.
(Association of Friends of Nuremberg Rock Cellars)
Tel. +49 (0)911 22 70 66
Fax +49 (0)911 230 - 55 91
info@felsengaenge-nuernberg.de
www.felsengaenge-nuernberg.de