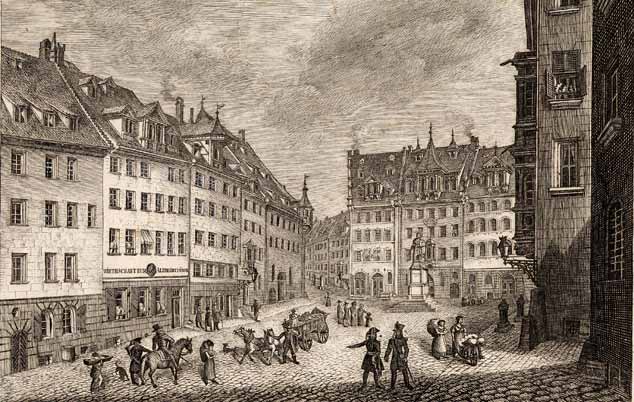 Comparably to the Nuremberg City Archive, which preserves written sources, the Graphics Collection has extensive pictorial materials about the former Free Imperial City of Nuremberg and its expansive territory.
Even though the old city was destroyed in 1945, Nuremberg still counts even today as one of the most significant historical urban environments in Europe. It was already a must-see attraction for international tourists in the early 19th century. The demolition work performed after the city was incorporated into the Kingdom of Bavaria in 1806 gave the residents an especially sharp appreciation of their collection of unique historical structures. Here the artist Georg Christoph Wilder did significant work for the collective memory by preserving a record of lost and threatened buildings and groups of structures in masterful watercolors and prints.
The collection of topographic views illustrates how the city's appearance has evolved from the late 15th century to the present, and provides an important source for research in local history. It is organized by place names, street names and building names, and also includes historical photographs.
As part of the general inventory of the municipal art collections, holdings are gradually being digitized, and will be made available online as soon as possible.