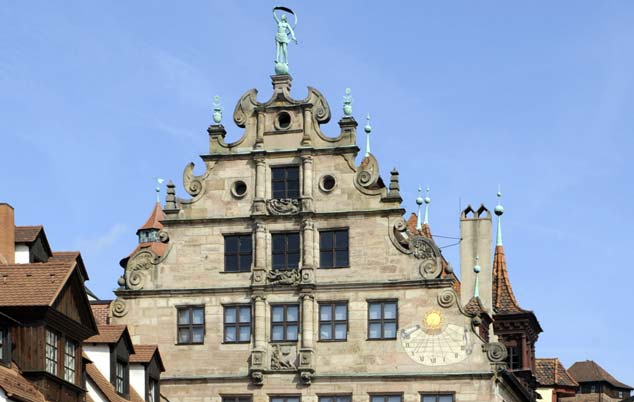 After three years of work, the City Museum at Fembo House reopened in 2000. The building was completely renovated and its historical presentation was entirely reconceived and redesigned.
A merchant's house, patrician mansion, map publishing house, museum – the Fembohaus has had a rich history and has played many different roles. Its history reflects the changes in the city's life.
Philipp van Oyrl, a merchant from the Netherlands, built the house downhill from the Imperial Castle between 1591 and 1596. In the 17th century, Nuremberg patrician Christoph Jakob Behaim converted it into a splendid mansion. During the 18th and 19th centuries, it was the production site for millions of copperplate maps, as the home of the famed Homann Mapmakers. Then Georg Christoph Franz Fembo acquired the building, which passed to the City of Nuremberg in 1928 and has been a museum since 1953.
The main building survived the bombardments of the Second World War almost intact, but parts of the other buildings on the site were severely damaged and had to be rebuilt.
The Fembohaus has been a City Museum since 1953/58. It can be seen from a considerable distance on Burgstrasse between the Market Square, City Hall and Imperial Castle.