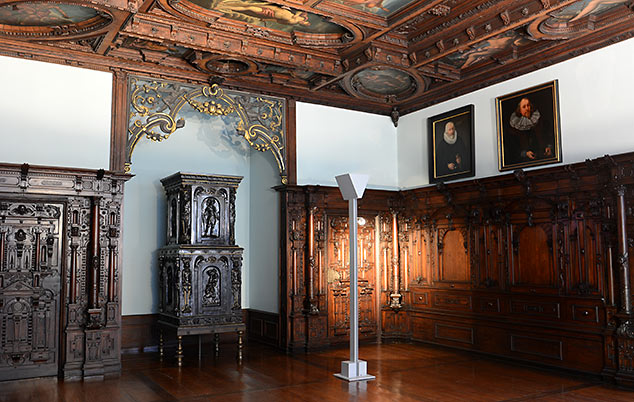 The "Beautiful Room" from the Peller House
Martin Peller (1559-1629), the "newcomer and stranger" from Radolfzell on Lake Constance and one of Nuremberg's richest merchants, had the finest house on Egidienberg, the most distinguished square in town, displaying his wealth in a very ostentatious manner.
The "Beautiful Room" with its rich paneling and a beautiful coffered ceiling decorated with paintings was removed from the Peller House before the beginning of World War II and so was saved, while the rest of house was almost completely destroyed. In 1957-58, the room was integrated in the newly re-built back house of the Fembohaus.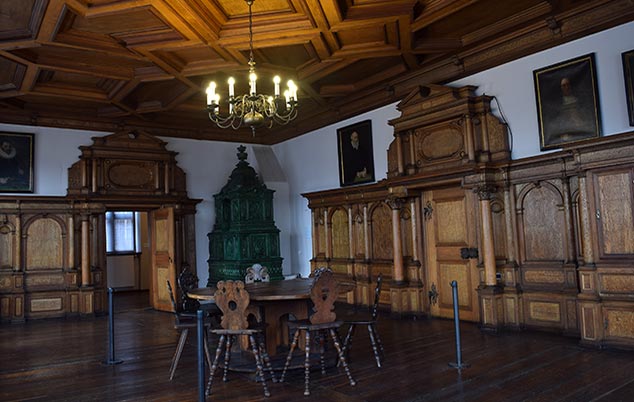 The family hall
The paneled hall on the second floor dates back to about 1600, and is Nuremberg's oldest surviving family hall.
This pièce de résistance of the Fembohaus shows off the lifestyle of the wealthy in Nuremberg at the beginning of the seventeenth century. The splendidly furnished room with its extensive coffered ceiling, as well as the other rooms on the second floor, were only used for special functions like family celebrations and receptions for guests.
The living quarters proper were located below, on the first floor. Small rooms and servants' quarters were found on the top floor as well as in the connecting building and the back building.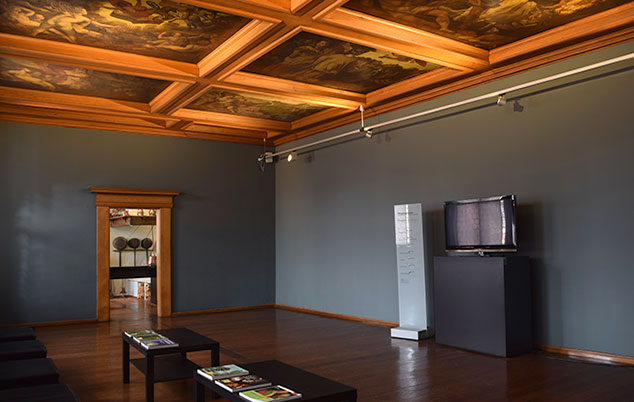 The ballroom
The former ballroom on the third floor of the connecting building was created in 1668. It boasts a coffered ceiling consisting of 10 panels painted by an unknown master, with motifs from Ovid's famous "Metamorphoses" based on a series of copperplate engravings by Dutch artist Hendrik Goltzius (1558-1617).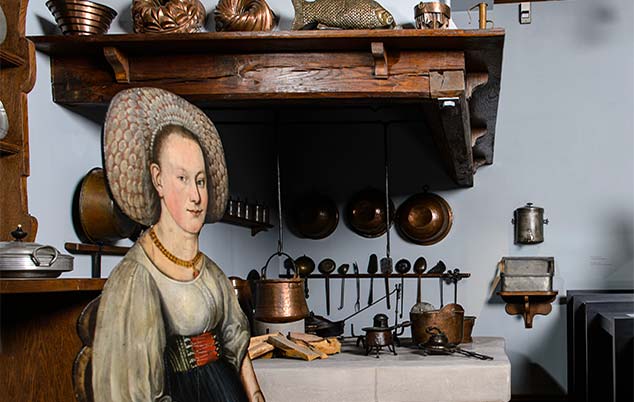 Nuremberg kitchen
In the kitchen of a rich Nuremberg merchant's house, a cook and several kitchen maids worked under the strict supervision of the mistress of the house.
In addition to cooking, foodstuffs were also produced and preserved here. Slaughtered animals were dressed, meat was portioned, butter and cheeses as well as soap and candles were produced. For storage purposes, foods were smoked, pickled, or salted, sausages and hams were hung in the chimney flues to be cured.
Because many strong spices were used in the wealthy merchants' households, expensive exotic spices such as pepper, cardamom, cinnamon, saffron, and ginger became very popular.
The parts used in the reconstructed kitchen on the third floor dates back to the seventeenth and eighteenth centuries. Visitors can also learn about Nuremberg specialties and recipes in the kitchen.