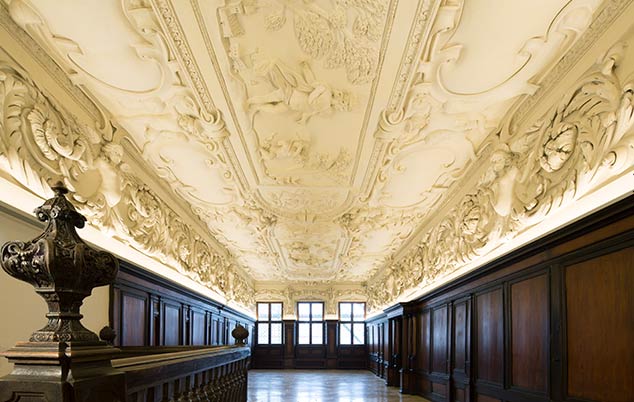 Baroque stucco ceiling
This ceiling in the Fembohaus is the most impressive surviving Baroque stucco ceiling in Nuremberg. The two central panels portray the main subject: love and friendship. The left panel symbolizes love. Venus is the goddess of the charms and pleasures of love, but also of fertility; her constant companion, Amor, stands for love and friendship, and aims his arrow at her as she tries in vain to flee. The right panel symbolizes friendship: Venus and Amor are close friends, as is also symbolized by the two playing children.
The figures in the corners represent the four seasons. Spring and summer are on the side toward the window; autumn and winter are toward the staircase. The symbolism implies a connection between the cycle of the seasons and the cycle of existence, with birth, life and death. Some of the many boys and girls emerge from cornucopias and carry platters of fruit, including pomegranates as a symbol of fertility.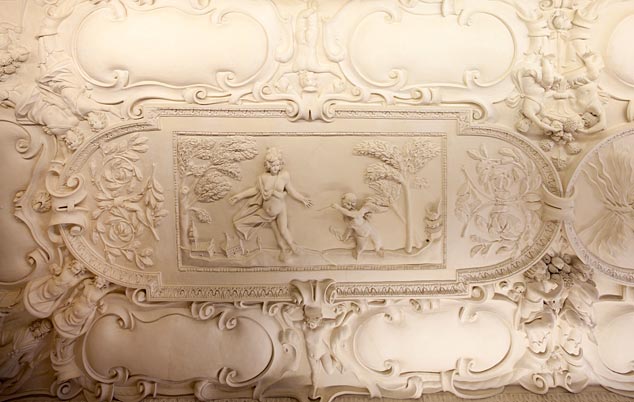 Baroque Stucco in Nuremberg: Carlo Moretti Brentano
We have no exact dates for Carlo Moretti Brentano's birth and death. He was born around 1630 in Azzano, northeast of Lenno on the western shore of Lake Como, and died in nearby Giulino in 1684. He trained in Italy, where he began working in stucco, and probably reached Nuremberg in 1662. His most important commissions were the stuccowork for the Church of the Holy Spirit in Nuremberg, completed in 1662, and parts of the stuccowork for Munich's Theatine Church, completed in 1664.
Christoph Jakob Behaim commissioned Brentano to create a splendid stuccowork ceiling in what is known today as the Fembohaus. Behaim, a city patrician, had married Maria Sabina Pellerin in 1668 and like any good dignitary of the Baroque era, he arranged for a duly sumptuous remodeling of the house that his wife brought into the marriage. The ceiling was created in one of the grand public rooms of the house, which – as was customary in the city's patrician houses – was situated on the second upper floor of the front building. Brentano completed his work here in 1674.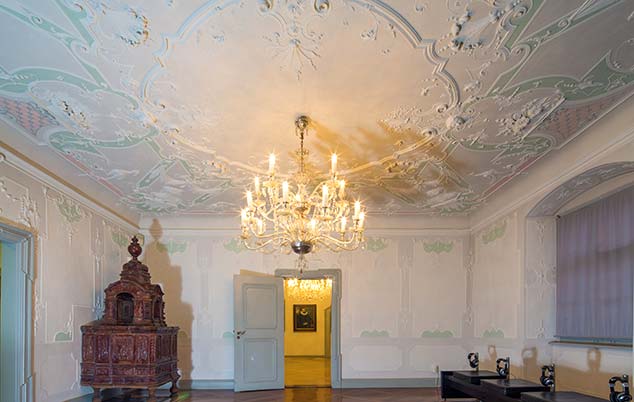 The work of the stucco artist
In 1734, Italian stucco artist Donato Polli (1663-1738) created the decorations for three rooms on the first floor of Fembohaus in the late Baroque and early Rococo styles.
Johann Georg Ebersberger (1704-1760), who commissioned the elegantly designed work, bought the house in 1734 with Johann Michael Franz (1700-1761) and moved into the first-floor rooms newly decorated by Polli. The artist created some of Nuremberg's most beautiful late-Baroque rooms.
To complement the house's building phases, a 20-minute audio program offers music composed by Nuremberg masters from three centuries.