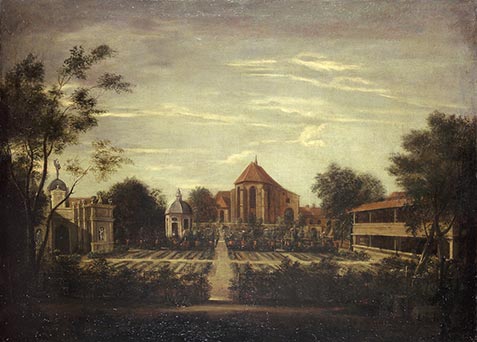 In the seventeenth century, Nuremberg was largely a mediaeval-style city of about 40,000 inhabitants, visually dominated by one of the largest European castle complexes.
Nuremberg's impressive town wall with its massive round towers and main gates presented a very unified appearance.
City views created by the copperplate engravers Johann Alexander Boener (1647-1720) and Johann Adam Delsenbach (1687-1765), who were renowned beyond the city, as well as the painter Wilhelm van Bemmel (1630-1708) who immigrated from Utrecht with his son Peter van Bemmel (1685-1754), all provide impressive evidence of the Old Town of Nuremberg.
More historical detail is provided by the Apollo Fountain, created in 1532 by Pankraz Labenwolf (1492-1563) and Peter Flötner (1490/95-1546), as well as a wooden model of the so-called "Gänsemännchenbrunnen" (Goose Seller's Fountain) ascribed to Hans Peisser (around 1550).