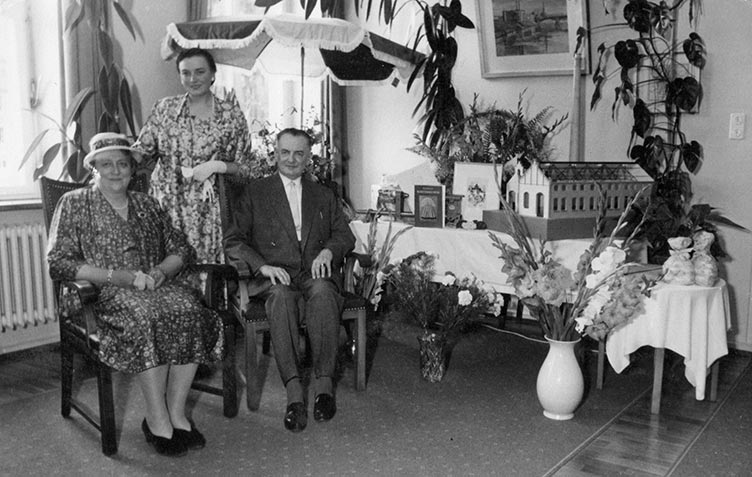 The Nuremberg Toy Museum grew out of the collecting work of Lydia (1897-1961) and Paul Bayer (1896-1982). The couple had begun collecting toys and art objects back in the 1920s, and their daughter, also named Lydia (1929-2000), reveled in the company of historic toys from an early age. Born in Würzburg and raised in the toy-making city of Nuremberg, she eventually came to focus her practical and academic education on toys, earning a doctorate in art history with a dissertation about European doll houses.
In 1962, the young researcher reorganized her parents' collection in Würzburg as a private museum, whose holdings the City of Nuremberg then acquired in 1966. As the Museum's founding director, Dr. Lydia Bayer entered the city's employ and prepared the institution's opening in 1971. She and her father coop-erated closely to bring about considerable expansions of both the collection and the Museum itself. Even after her retirement in 1994, she remained closely associated with the Toy Museum until she passed away.
This room was set up in 2021 to commemorate the Toy Museum's two "mothers." The "Cabinet" – a small side room here in the Museum that provides a home for some especially fine pieces from the Bayer collection – was prompted by Dr. Bayer's own wish. The reproduction Baroque wood ceiling and paneling are part of the Museum's original furnishings from 1971.
These audio files provide a brief acoustic overview of the lives and collecting activities of the two Lydia Bayers up to the opening of the Toy Museum in 1971.
1. I am the chat bag – a faithful companion narrates
(audio file mp3, 3,74 MB)
Author: Dr. Urs Latus, Narrator: Emilia Robert
---
Dr. Lydia Bayer narrates her life
2. The long wait for the first doll shop
(audio file mp3, 3,56 MB)
3. Lydia Bayer, Sen., and the origins of her desire to collect
(audio file mp3, 4,56 MB)
4. World War II, a deep disruption
(audio file mp3, 4,60 MB)
5. Dr. Lydia Bayer Jr.
(audio file mp3, 4,59 MB)
6. From the first exhibitions to founding the Toy Museum
(audio file mp3, 5,47 MB)
Conversation with Dr. Lydia Bayer, November 1987, Recording and transcript by Dr. Marion Faber, Narrator: Dulcie Smart