General audio tour
The audio tour, in no less than ten languages, informatively and entertainingly gives adult visitors a closer understanding of the Toy Museum's treasures. Enter the number from the exhibit case on the handy device's keyboard to call up the explanations. A total of 48 stations with some 120 hours of total guide time offer intriguing information, amusing sidelines and sometimes also ideas for further reflection about the world of toys and children in days gone by.
At the entry to each section of the museum, a general explanation tells about the overall idea behind the area. An easy-to-follow pocket-sized orientation plan helps visitors find the individual toys in each room. For example, enter 101 to find out about Nuremberg's clay dolls from the middle ages; at 116 you can find out which princesses played with an especially splendid doll kitchen. Input 138 to learn how a steam brewery works, or 143 to hear the head of the Nuremberg Toy Fair answer questions from the museum director.
The texts have been kept easy to understand, and have been recorded by professional speakers, mainly in dialog format. Appropriate scene-setting with background sounds and adroit musical accompaniment provides a radio play-like atmosphere for many sequences. At greater depth, a third speaker – the "Narrator" – often acts a role or reads extracts from literary works. The personalities who appear include Johann Wolfgang von Goethe (about playing with tin figurines, No. 111i) and E.T.A. Hoffmann (about love for a doll, No. 114i).
Length of guided tour: about 120 minutes, 48 stations
Available languages: German, English, French, Spanish, Italian, Czech, Polish, Russian, Chinese, Japanese
Rental fee: EUR 1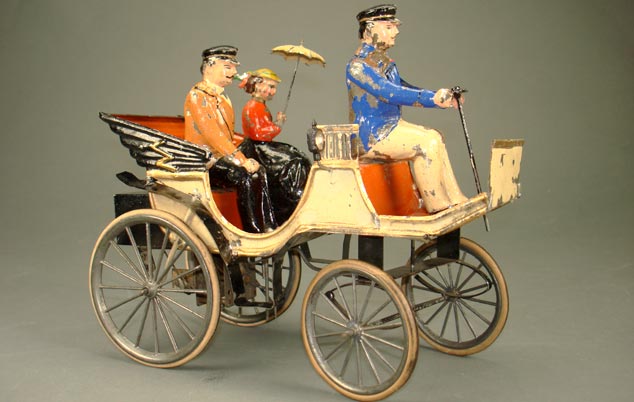 Children's guide
In a separate guide for children, teddy bear Emma joins Lukas, around age 10, on an exploratory journey through the museum. She shows and tells him how previous generations played and had fun. At many stations, Lukas discovers connections with his own favorite toys, or asks questions when something seems totally incomprehensible. A living audio experience for alert kids. Parents are also welcome to listen in – because the children's guide often discusses different items from the tour for grownups.
Length of guided tour: about 70 minutes, 30 stations
Available languages: German, English
Rental fee: EUR 1