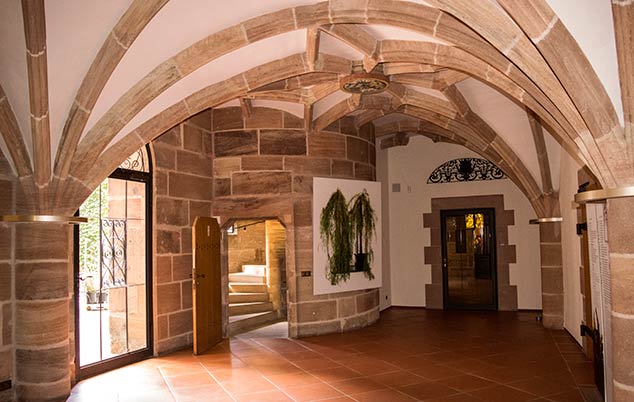 The great entrance hall with its impressive rib vaulting once served a variety of purposes – including for storage. The Gothic tracery window, produced in 1502 in the famed workshop of master glassworker Veit Hirsvogel, is one of the finest surviving pieces of old Nuremberg stained glass work. It shows the Annunciation, and is based on a design from Dürer's workshop.
Today, the hall still has a variety of uses, especially as a wedding site. It is available for rentals. You can find out more under
Rentals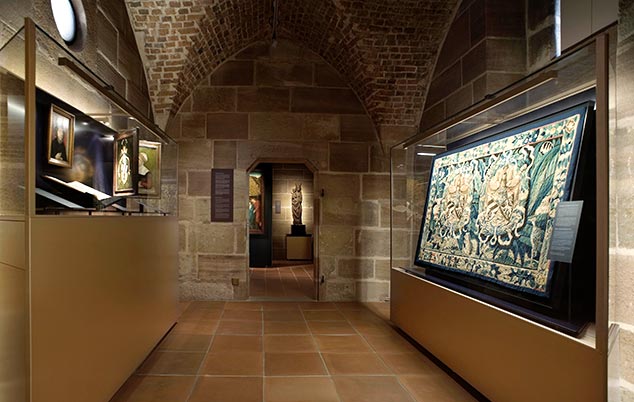 The two "Treasure Chambers" adjacent to the hall contain portraits by Dürer's teacher Michael Wolgemut and Dürer's pupil Hans Schäufelein. The collection also includes significant examples of gifts made to churches and memorial paintings, such as the 1493 painted memorial for Adelheid Tucher with its amazingly precise topographical view of the city of Jerusalem, and the large altarpiece including an "Ecce Homo" by Matthäus Merian (1621-1687).