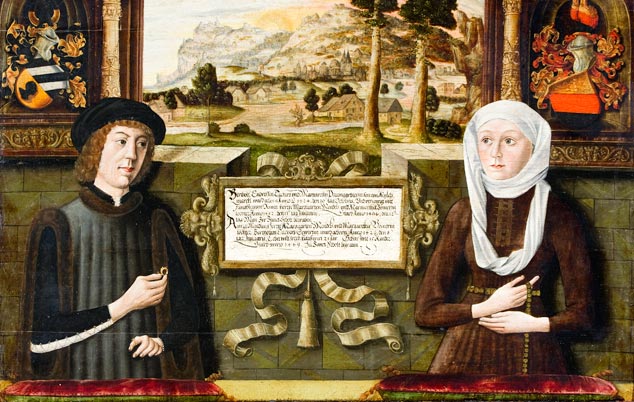 Portraits and other paintings
The richly furnished Tucher Mansion Museum gives a glimpse of the lifestyle of the aristocratic and influential Tucher family. Outstanding portraits and other paintings appear all around the house. Michael Wolgemut, Albrecht Dürer's teacher, painted the portrait of Hans Tucher VI, who became famous for authoring a book on his travels to the Holy Land. Dürer's student Hans Schäufelein painted the remarkable diptych of the mansion's builders, Lorenz and Katharina Tucher. The memorial painting for Adelheid Tucher, dated 1483, is notable for its amazingly precise topographical depiction of the city of Jerusalem.
Among the other highlights of the collection are portraits by Nuremberg Renaissance painters Lorenz Strauch, Nicolaus Juvenel and Nicolaus Neufchatel, and by Franz von Lenbach, "prince" of the Munich painters at the turn of the nineteenth century, along with a large Baroque altarpiece with an "Ecce Homo" by Matthäus Merian.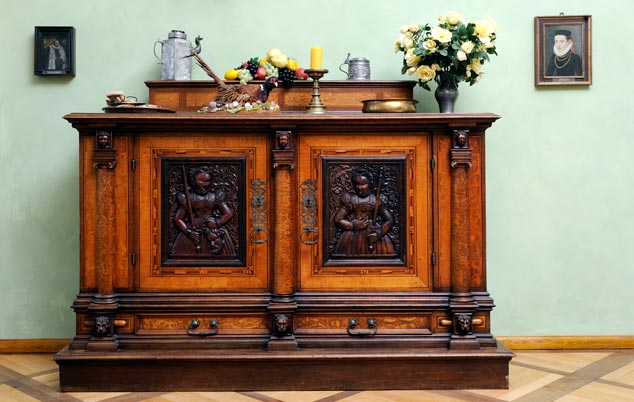 Furniture and tapestries
A splendid pillared cupboard built to designs by Peter Flötner in 1537 highlights the dining room – the mansion's last work from the hand of this major Renaissance woodcarver. All the rooms are furnished with four centuries of excellent furniture – various cupboards, tables, chests, chairs and credenzas. The walls bear fine tapestries from Flanders and France with plant and animal subjects in both the "verdure" and "figured" styles, all from the sixteenth and seventeenth centuries.
Faience, glass and goldsmithing
The Tucher Mansion has a wealth of fine glass goblets and cups, Delft faience and products from the Nuremberg handicraft works that started becoming established as long ago as 1711.
The great Banqueting Hall on the second floor has some of the finest works ever made by Nuremberg's goldsmiths: a double silver-plated and fire-gilt wedding chalice – the "Doppelscheuer" – and the famous eight-piece set of Tucher Ewers, enameled in Limoges. Both are the work of Nuremberg's most significant sixteenth-century goldsmith, Wenzel Jamnitzer (1508-1585).
The original furnishings of the Banqueting Hall also include the glass windows showing tales of ancient gods and heroes, made around 1540 in the workshop of Nuremberg master glass painter Augustin Hirsvogel.
However, the "Annunciation Window" in the entrance hall, made by Veit Hirsvogel's workshop, and the four stained-glass windows in the first-floor dining room, made by Zurich artist Christoph Murer and showing the story of the Prodigal Son (1610), are not original to the building. They were originally made for two chapels at the Tucher mansion on Grasersgasse.