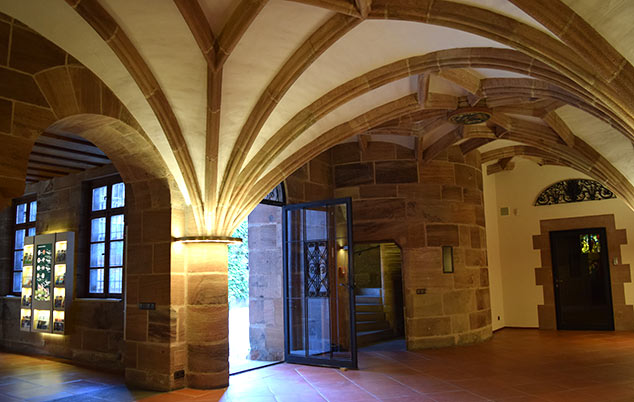 Foyer and Courtyard
Events take on a special quality in the Mansion's generous foyer with its imposing late Gothic cross vault and the famous glass window from Dürer's workshop.
This late medieval room, once the Mansion's entry hall, is laid out in an L shape. It is rented out primarily for corporate events and small conferences, as well as for official and private celebrations. It also provides an excellent setting, festive yet intimate, for readings and small concerts.
A coat check area and rest rooms are available, as is a separate side room for caterers. Unfortunately, there is no catering kitchen and no tables and chairs are available for rental along with the Mansion foyer. Tables and chairs must be arranged with the caterer.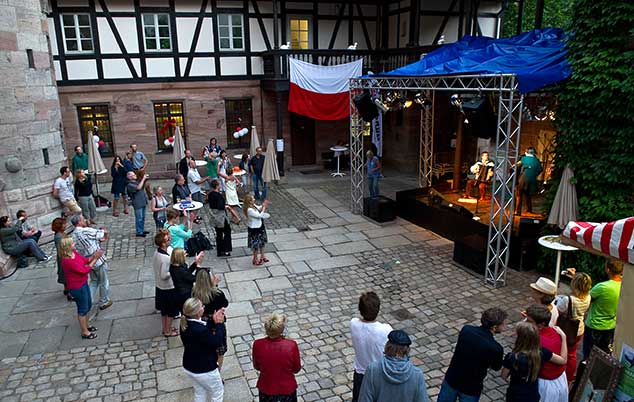 The Mansion's Renaissance courtyard, the only one of its kind in Nuremberg, is immediately adjacent to the foyer and is atmospherically lighted in the evening. It is available for rental together with the foyer. Unfortunately, the courtyard cannot be rented separately.
Permitted capacity:
approx. 40 people for events with tables and chairs
approx. 60 people for receptions without seating
Hall size:
112 m²
(L-shaped ground plan, approx. 14 x 11 m)
Courtyard size:
approx. 200 m²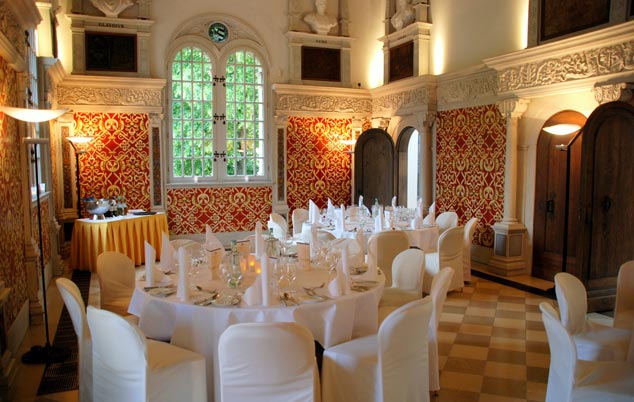 Hirsvogelsaal
This rectangular structure with its unique artistic fittings is ideal for very special occasions of a festive, private or official nature, such as wedding parties and birthday celebrations, company anniversaries, and symposia. But the elegant 16th-century setting is also an outstanding environment for concerts, readings or lectures.
The hall is wheelchair-accessible. At the back it has been expanded with a modern foyer addition that includes the entrance, as well as a coat check area, rest rooms and a kitchen. Tables and chairs are available at no charge, and a piano is available for rental if desired.
The building is set in a terraced garden in Renaissance style, with fruit trees, party lawn, flower beds, an espaliered rose and a well. The Hirsvogel Hall and Renaissance Garden can be rented together. Unfortunately, the garden cannot be rented separately.
Permitted hall capacity:
approx. 70 people for events with tables and chairs
approx. 95 people for receptions without seating
Hall size:
approx. 95 m²
(approx. 15,2 x 6,3 m)
Size of the modern foyer addition:
| | |
| --- | --- |
| Foyer area alone: | approx. 50 m² |
| Foyer area plus coat check, rest rooms and catering kitchen: | approx. 100 m² |
Rental contact:
You can find out more about rentals at the Tucher Mansion Museum and Hirsvogel Hall from:
Martina Bauer
Nuremberg Municipal Museums
Museum Tucher Mansion and Hirsvogel Hall
Hirschelgasse 9-11
90403 Nuremberg
Tel. +49 (0)911 231 - 54 14
Fax +49 (0)911 231 - 54 22
Contact form