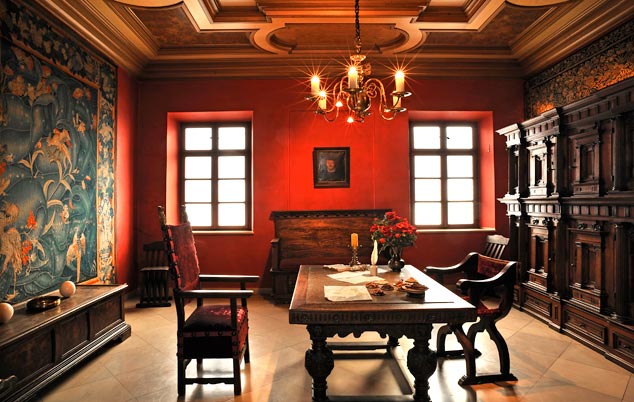 Visitors reach the mansion's grand floor for public display via a winding staircase. This is where the Tuchers received envoys and business partners from all over the world, city council members, and other members of the city's patrician class; it's also where they held family celebrations, baptisms, weddings and betrothals.
The Byzantine-red Reception Room features portraits of richly robed family members by the well-known Renaissance masters Nicolaus Juvenel and Lorenz Strauch.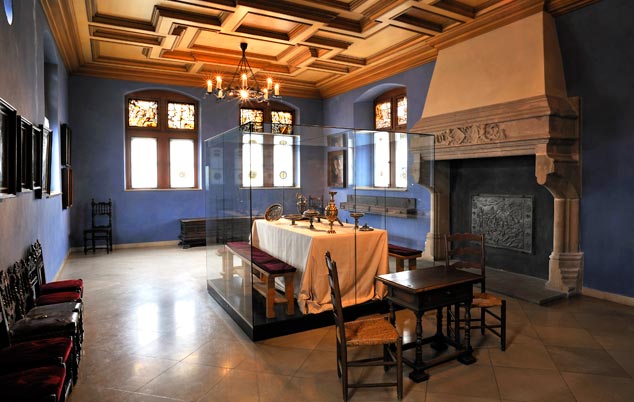 The large Banqueting Hall is adorned with a table splendidly set for a dazzling "virtual" betrothal party. Renaissance music, the clatter of fine porcelain and quiet table conversation provide an aural backdrop for the banquet scene.
The table setting includes the famous eight-part set of Tucher Ewers and the fire-gilt silver "Doppelscheuer" – a nearly identical pair of gadrooned chalices, a traditional Nuremberg wedding gift from the husband to the wife for a ceremonial wedding toast.
Both the ewers and the cups were commissioned by Linhart Tucher from Nuremberg's most important sixteenth-century goldsmith, Wenzel Jamnitzer (1508-1585), for the marriage of Linhart's son Herdegen IV to Katharina Pfinzing in 1564. The pieces were first made of beaten copper by Jamnitzer and then enameled by Pierre Reymond in Limoges, France.