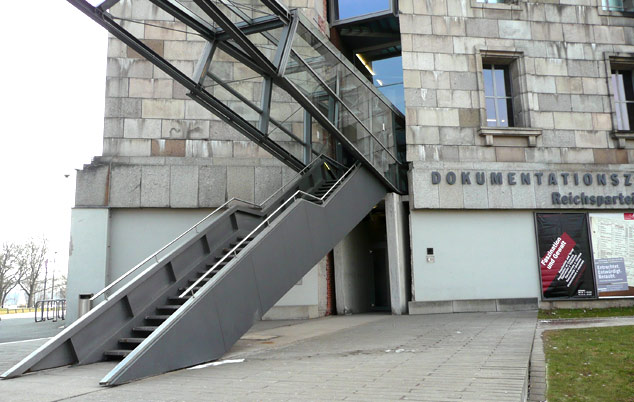 A wheelchair entrance is available at ground level, under the stairs to the main entrance. From there you can reach the lobby by elevator and move on to the various levels of the Documentation Center. This entrance may be locked; please ring.
The Documentation Center itself has two wheelchairs that you can borrow while you visit the exhibitions. Please reserve in advance. The exhibition space itself includes various opportunities to sit down, especially for films.
Level 1 has the ticket and information desks, as well as a wheelchair-accessible rest room. The permanent exhibit on Level 3 is entirely wheelchair-accessible. There is a short staircase that is equipped with a wheelchair elevator. The elevator must be operated by trained staff; just ring the bell on the wall.
Three parking spaces for the disabled are available to the left of the entrance.
Special services:
An audio guide (included in the admission fee) is available in German and six other languages. You can borrow a plan of the exhibition in braille at the ticket desk. For the deaf and hearing-impaired, we offer printed German-language texts of the exhibition films.
Groups can make an appointment for a special disabled-access program in simplified language to accompany the exhibition for those with comprehension disabilities.