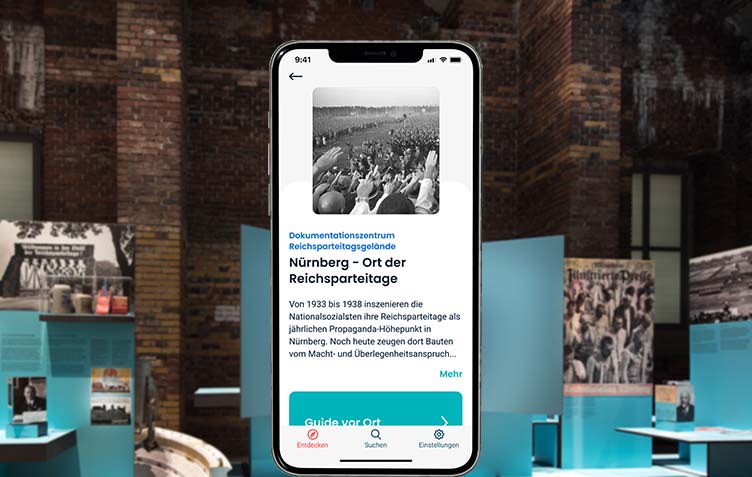 Now you can listen to the exhibition too!
Audio guide explains 100 years of the site's history
Whether conveniently at home or on site at the Documentation Center – now you can explore the "Nuremberg – Site of the Nazi Party Rallies" exhibition with a new audio guide that gives you access to 25 selected listening stations. Hear for yourself how a local power struggle played out in Weimar-era Nuremberg, what eyewitnesses recall about the Nazi Party Rallies, and why a little pile of shattered pottery is so significant. Find out what forced labor and captivity signified during the war years, and why the "Rally Grounds" still remain a symbolic site today.
The audio guide, roughly 40 minutes in length, offers a first survey of the presentation's most important contents, explains exhibits, and gives you a chance to hear eyewitnesses' own accounts. And it will most certainly whet your curiosity about the many other things that still remain for you to discover on your own when you visit the exhibition.
Technical information
The audio guide is available as an app for Android (Version 5.0 or higher, file size about 30 MB) and Apple iOS (iOS 9 or higher, file size about 30 MB). All you need to do is download the app from your app store. The app is not optimized for iPads or tablets.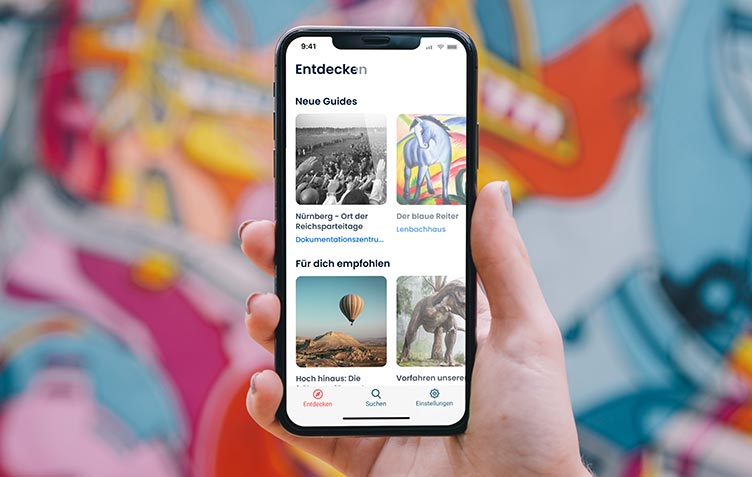 After installing the app, you can use the "Search" menu item to find the Documentation Center's audio guide. You can download all the contents in advance so you can use the app even without an internet connection.
We suggest downloading the app and guide before you visit the Documentation Center. Earphones are a good idea as well.
You can also listen to the entries from the audio guide here on the website.
Audio files
---
The audio guide is a joint project of the Documentation Center at the Nazi Party Rally Grounds and the Cultway culture platform.