Address
Documentation Center Nazi Party Rally Grounds
Bayernstraße 110
90478 Nuremberg
Ticket office and information
Tel. +49 (0)911 231 - 75 38
Fax +49 (0)911 231 - 84 10
Contact form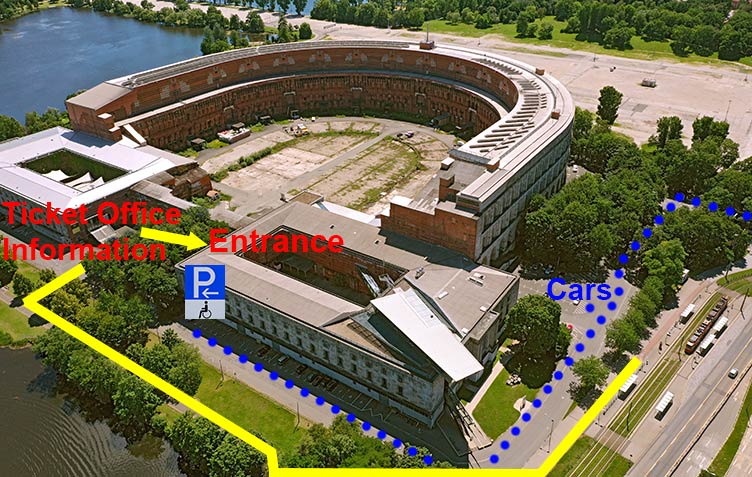 New Entry Layout and Parking Options
The previous entrance to the Documentation Center is no longer accessible because of the surrounding construction site for the remodeling work. Unfortunately there is no car drop-off area in front of the new, temporary entrance to the Interim Exhibition. Very limited parking for cars is available right off the driveway to the Congress Hall. Please plan on a brief walk, about 5 minutes, from your parking space to the exhibition. The ticket office and information desk, along with the entrance to the Interim Exhibition, are at the same level as the driveway to the courtyard of the Congress Hall. The path for pedestrians is signposted. There is a charge for all parking on weekends and during local festivals. (The parking slip is valid for the full day. If you leave the parking lot, please be sure to get your slip stamped by the guardian.) Please note that there may be heavy traffic at these times!
Additional free street parking is available a few minutes away by foot along "An der Ehrenhalle," the street between the Meistersingerhalle and the Documentation Center. Please note that vehicle and pedestrian access here may also be limited because of road construction on Bayernstrasse.
Bus access
Buses will be able to drive up to the Interim Exhibition as before, but the inner courtyard will now be available only for turning around. There will be NO PARKING there. Buses will have to leave the property, turn off into Schultheissallee and then take the turn onto "An der Ehrenhalle" street, where new bus parking areas are available.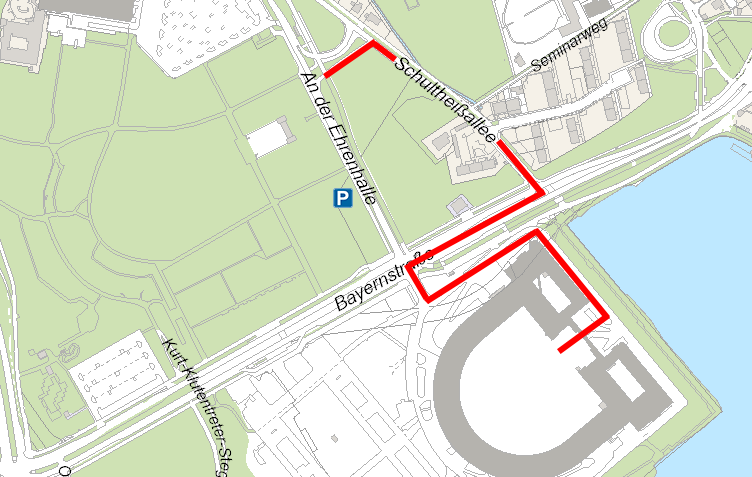 Getting here
Tram 6, 8: Doku-Zentrum stop
Bus 36, 45, 55, 65: Doku-Zentrum stop
S-Bahn S2: Dutzendteich Bahnhof stop