The Documentation Center is being remodeled, and the former Permanent Exhibition is now closed. Instead, a specially conceived, compact Interim Exhibition in the Large Exhibition Hall presents the history of the Nazi Party Rallies and the Rally Grounds. You can find out all the details about visiting the Interim Exhibition here
Information about your visit at the Documentation Center
Important note:
The former Nazi Party Rally Grounds will be unavailable for visits from May 24 to June 6, 2023, because of a large event. The "Nuremberg – Site of the Nazi Party Rallies" exhibition at the Documentation Center will be open as usual. Please indicate at the security check that you would like to visit the Documentation Center. We encourage you to plan on coming by public transportation during this period, because no parking will be available nearby.
Because of scheduled events, the site will be only partially open on certain days in June and July 2023. The exact dates will be announced well in advance.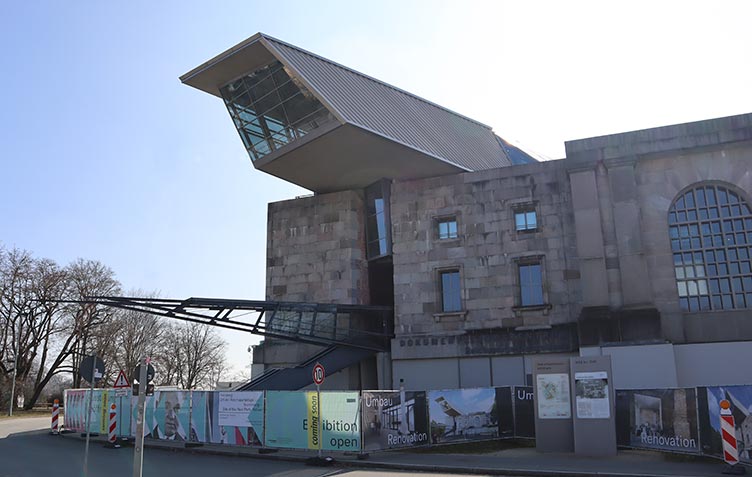 Regular hours
| | |
| --- | --- |
| Monday to Sunday: | 10 a.m. - 6 p.m. |
---
The exhibition at the Documentation Center Nazi Party Rally Grounds is not suitable for children under the age of 14. Visits by school groups are advisable only for grade 8 and above, provided the topic has been addressed in class.
Special hours for holidays in 2023
| | |
| --- | --- |
| 18 May (Ascension Day) | 10 a.m. - 6 p.m. |
| 28 May (Whitsunday) | 10 a.m. - 6 p.m. |
| 29 May (Whitmonday) | 10 a.m. - 6 p.m. |
| 8 June (Corpus Christi) | 10 a.m. - 6 p.m. |
| 3 October (Day of German Unity) | 10 a.m. - 6 p.m. |
| 1 November (All Saints' Day) | 10 a.m. - 6 p.m. |
| 24 December (Christmas Eve) | closed |
| 25 December (Christmas Day) | closed |
| 26 December (Boxing Day) | 10 a.m. - 6 p.m. |
| 31 December (New Year's Eve) | 10 a.m. - 6 p.m. |