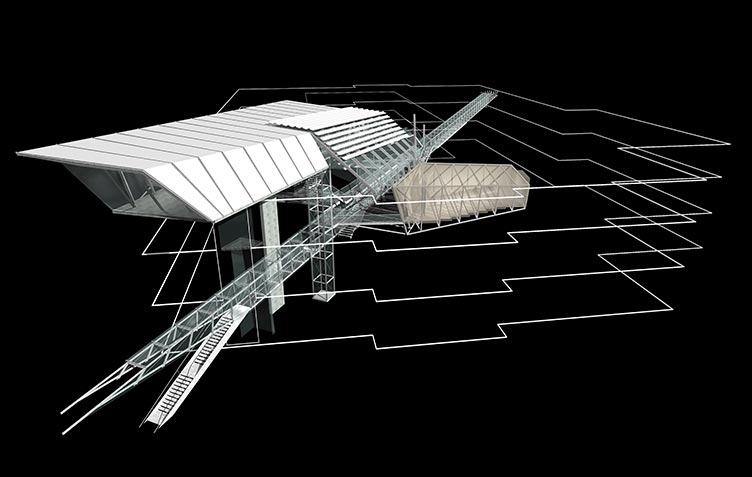 From the very start of planning in 1994, the Nuremberg Municipal Museums proposed housing the Documentation Center in the northern front wing of the Congress Hall. On that basis, an international architectural competition was announced in 1998. The aim was not only to incorporate the Documentation Center into the existing building in a way that would work well as a museum, but also to inspire a meaningful confrontation with Nazi architecture and the mindset that produced it. Graz professor of architecture Günther Domenig (1934-2012) won the competition. He conceived the Documentation Center in Nuremberg as both a memorial and a warning. His design was concerned first and foremost with breaking up the building's historic axial layout, as a way of reappraising history.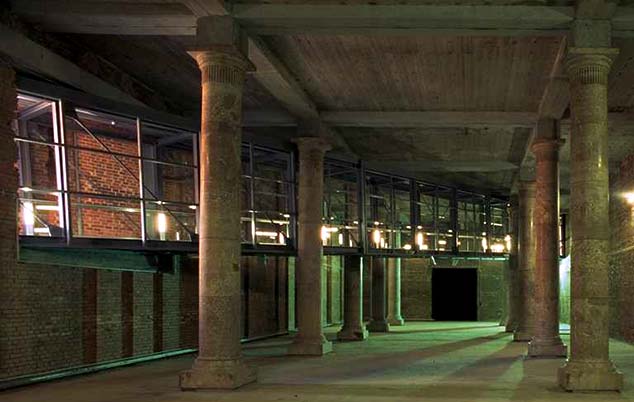 Apart from the film theater suspended in the lobby and the study forum on the roof, the most outstanding component of the Documentation Center must surely be the glass "Stake" that is driven through the massive structure, permanently disrupting the Nazi building's geometry of unrelenting right angles. The passageway, 130 meters long, penetrates diagonally through the entire front section of the building, whose huge, grandiose halls remain unfinished and open.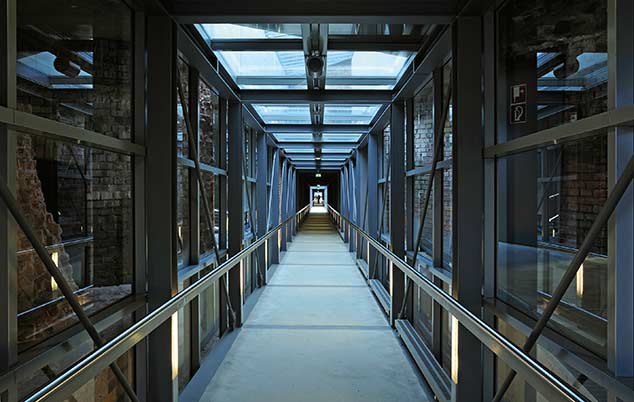 On the way back through the exhibit along the passageway, a visitor gets unaccustomed views into the building: the Congress Hall itself becomes a walk-through exhibit.
The Documentation Center's architecture has won multiple awards.
The expansion of the Documentation Center, which began in 2020, is likewise extending into the North Wing of the Congress Hall. The construction necessitates careful handling of the old building, which is protected as a historical monument, and also of the museum's significant new structure, built around the turn of the millennium to designs by architect Günther Domenig. His approach of a symbolic challenge to Nazi architecture, using modern construction techniques, will be meticulously echoed and continued in the newly opened parts of the building.
Keep an eye on the latest developments at the Documentation Center here!
rebuilding.documentation-center-nuremberg.de