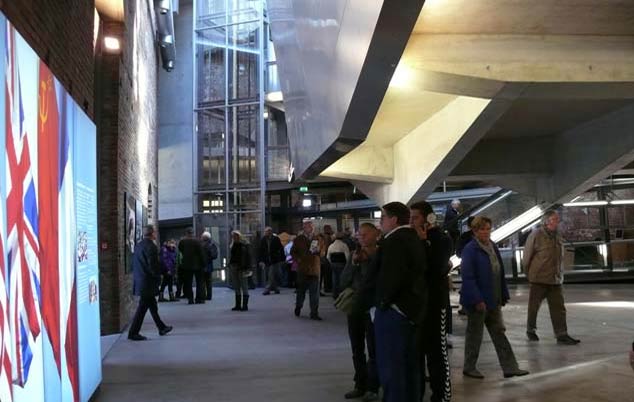 The Documentation Center Nazi Party Rally Grounds opened on November 4, 2001, with a number of dignitaries in attendance, among them then-German President Johannes Rau. UNESCO included the institution in its International Year for the Culture of Peace. In 2002 the Documentation Center was awarded the "Silver Otter" from the British Guild of Travel Writers as the best overseas tourism project.
The key to the Documentation Center's success is its overall concept as a centralized location for exploring and explaining the phenomenology of the Nazi regime. Special exhibitions and accompanying events highlight topics that complement the permanent exhibition. The Study Forum on the Documentation Center's roof offers educational facilities for a broad audience – a place to explore further questions and problems with support from specialists in the field.
The former Permanent Exhibition has been closed since early 2021, and the Documentation Center has been undergoing an expansion. At the moment, an Interim Exhibition has been recounting the area's history: "Nuremberg – Site of the Nazi Party Rallies. Staging, Experience and Violence." A modified educational program completes the roster of options. By the end of 2023, the institution will have a new lobby with a food service area looking toward the Dutzendteich lake, an event room with capacity for 200 people, expanded office and exhibition spaces, and areas for a library and collections. The new Permanent Exhibition will be supplemented with a media and research center and a variety of new educational services.
Keep an eye on the latest developments at the Documentation Center here!
rebuilding.documentation-center-nuremberg.de