At the ticket desk you can buy postcards, DVDs and various publications about National Socialism in general, and its particular history in Nuremberg.
If a title is unavailable at the bookstore, you can order it from the Documentation Center by telephone or by Email . It will be sent to you with an invoice, including a fee for postage and packaging (extra fee for mailing to non-EU countries.
Tel.: +49 (0)911 231 - 56 66
dokumentationszentrum@stadt.nuernberg.de
The following titles are available in English or combined German/ English versions. For the full range of publications on sale at the ticket office of the Documentation Center, please see the German website.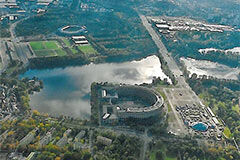 Former Nazi Party Rally Grounds
Area Map (German/ English/ Spanish/ French)
3.00 EUR
---
The Congress Hall on the former Nazi Party Rally Grounds through the Ages
10 Postcards with various motifs of the Congress Hall (German/ English)
4.00 EUR
---
Fascination and Terror - Documentation Centre Nazi Party Rally Grounds
Catalogue belonging to the exhibition
Museen der Stadt Nürnberg (ed.)
8.00 EUR
---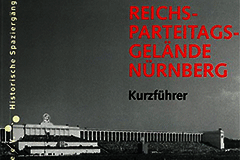 The Nazi Party Rally Grounds in Nuremberg
A Short Guide (German/ English/ Italian/ Spanish/ French)
Alexander Schmidt, Markus Urban
6.80 EUR
---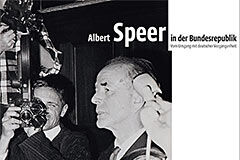 Albert Speer in the Federal Republic. Dealing with the German Past
Catalog to accompany the special exhibition of the same name
9.80 EUR
---
The Dachau Concentration Camp, 1933 to 1945
Published by Comité International de Dachau; Barbara Distel, Dachau Concentration Camp Memorial Site (englisch)
23.90 EUR
---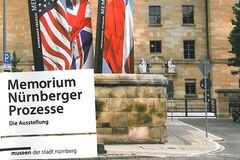 Memorium Nuremberg Trials. The Exhibition
Catalogue belonging to the exhibition
Museen der Stadt Nürnberg, Dr. Matthias Henkel and Hans Christian Täubrich (ed.)
8.00 EUR
---