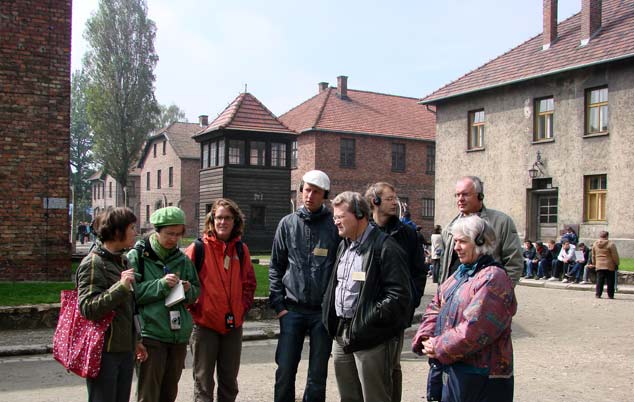 The Documentation Center Nazi Party Rally Grounds views itself as just one piece in the mosaic of German and International remembrance. Not as a memorial, but rather as a place of remembrance and learning, its special characteristics make it aspire to promote a better understanding of the causes, contexts and consequences of the Nazi tyranny. Its work focuses most of all on issues that concern Nuremberg and the Nazi Party's orchestration of its image at its rallies. By learning about the background and structures that fueled mass enthusiasm and a cultural reverence for Hitler, especially in the regime's early years, those who are interested can better understand and cope with the history of events at the former extermination camps if they visit the memorial sites later. Visits to a variety of memorial sites and places of remembrance can thus help visitors develop their own topography of the history of the Third Reich.
In educating visitors and focusing the content of exhibitions, the Documentation Center works closely with colleagues from other such institutions and memorial sites, and regularly exchanges information with them about new research results and innovative exhibition design.
The exchange of professional information with colleagues in other countries has intensified. Even before the Documentation Center opened, experts from memorial sites and museums all over the world gathered in Nuremberg in 1999 for an international symposium titled "The Future of the Past: How should the history of the Third Reich be transmitted in museums and memorial sites in the 21st century?" The Documentation Center has also attracted international attention and recognition by hosting an exhibition from the Oradour memorial site in 2005, and by exporting various exhibitions of its own to France, the USA and Poland, as well as by cooperating closely with six Polish memorial sites to create the "Tracks" exhibition in 2010.
Informational visits to France and Poland during the past few years have sensitized the Center's employees and independent contractors to the culture of history and remembrance in both Germany and neighboring countries. Mutual acquaintance and personal contacts between German participants and those from other countries have helped dismantle personal prejudices and contributed toward building a European culture of remembrance. The goal of these informational trips, which will certainly continue in future years, is to intensify our shared work in history, our intercultural dialog, and the development of a shared European perspective of remembrance.