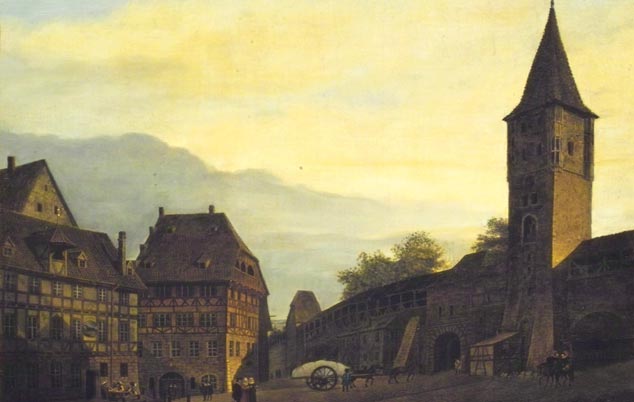 The residence of the famous Nuremberg painter and graphic artist Albrecht Dürer is situated close to Tiergärtnertor right below the Castle.
The decades around 1500 were an era of genius – especially in Nuremberg. In those days, this was one of Europe's leading city-states, self-governing under the Empire and renowned for its economic clout, art, and culture. It was an ideal home for painter, graphic artist, and art theoretician Albrecht Dürer. The artist acquired the property in 1509 – an impressive home in those days as well, built around 1420 and renovated shortly before he bought it. Dürer was at the height of his fame then, and lived and worked here until his death in 1528, together with his wife Agnes, his mother, his pupils and apprentices.
The building passed to other owners after Dürer's death, but its connection with its most eminent resident was never forgotten. As early as 1675, famed German Baroque painter Joachim von Sandrart called attention to how very special the house was – and thus it has been preserved down to the present. One of the earliest memorials to an artist anywhere in the world, the house was reconfigured as a museum in 1871.
The massive air raid on Nuremberg's Old Town on January 2, 1945, did not entirely spare the Dürer House. Bombs landing nearby blew part of the roof off and knocked out the windows and sections of the exterior walls. But the building never caught fire, and never suffered a direct hit. Its core was still standing when the war ended, and as early as 1949, the major damage caused by World War II was repaired. It was ready to reopen as a museum – an important symbol of the reconstruction of the Old Town. And so it remains the only late-medieval artist's home still extant north of the Alps.