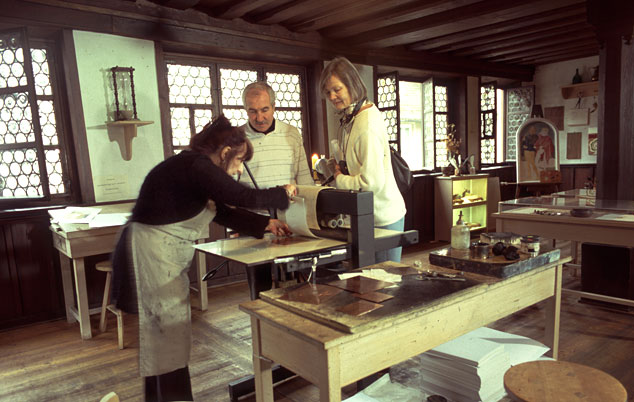 Those who want to find out more about the artistic techniques of Dürer's time, may get an insight into the production process of Dürer's works in the fully reconstructed and equipped workshop from Dürer's time which is situated on the second floor. Here, visitors will learn interesting things about various tricks used in the production and preparation of pigments, about graphic arts, the form cutter, and the copperplate engraver.
Here, experts regularly present demonstrations of Dürer's techniques. His workshop was large enough to accommodate several pupils, apprentices and journeymen. The natural history specimens and rare objects in the cupboard are a testimony to Dürer's scientific curiosity, and give an idea what Dürer's "cabinet of marvels" might have looked like.
Artist, Sofia Fränkl, allows you an insight into the creation of a copperplate engraving - from the design right through to the finished work. With a steady hand she wields the burin, line by line creating the overall image on the copperplate. Inking the plate and printing it are further steps in the creation of a copperplate engraving.