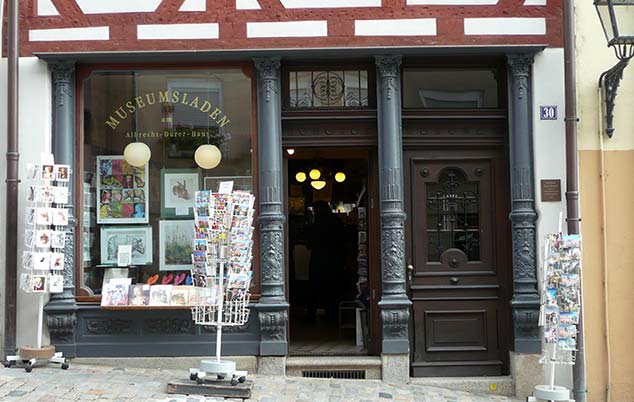 The museum shop is directly opposite Albrecht Dürer's House. The shop, located in a sixteenth-century house, is a treasure in its own right: carefully restored paintings, painted tiles, and loving management make it a true museum experience.
Here interested visitors can find a comprehensive range of literature, graphic works, and collector's items based on the work of Albrecht Dürer:
biographies
coffee table books
catalogs
facsimiles of Dürer prints
specialist literature on printing techniques
scientific treatises
antiquarian books
reproductions of Dürer copperplate engravings, etchings, and woodcuts
over 300 art postcards with Dürer motifs
presents and collector's items based on Albrecht Dürer's art: cups, plates, porcelain hares, umbrellas, mouse pads, pens, and much more
For more information please contact:
Museumsladen am Albrecht-Dürer-Haus
Proprietor: Felix Oettner
Albrecht-Dürer-Strasse 30
90403 Nuremberg
Tel. and Fax: +49 (0)911 234 - 86 62
www.duerermuseumsshop.com
Hours
Tuesday to Sunday:
10 a.m. - 5 p.m.
During summer months (June, July, and August) and during the Christmas Market:
Monday

10 a.m. - 5 p.m.