Albrecht Dürer's House is open for your visit. Please find all information regarding your visit, mask and COVID-certification requirements here
Information about your visit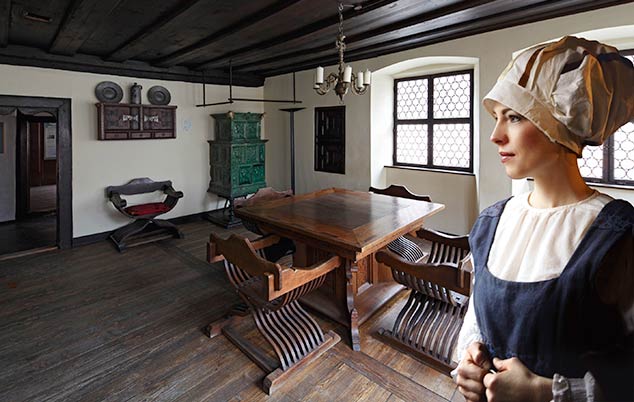 An actress portraying Agnes Dürer, the wife of the great Nuremberg artist, will guide visitors through her house in person.
Complete with house mistress' bonnet and large key-ring fixed to her apron, she meets the visitors and tells "inside stories". So interested visitors may find out quite a bit about life and work in an artist's household, about Agnes' work in kitchen, workshop and house, about illustrious guests and (sometimes less than) industrious apprentices, about her dealings with money, and her (not always easy) relationship with Albrecht Dürer.
Prices
3.00 EUR per adult
2.00 EUR per school student
(in addition to normal admission fee)
This tour is held in English at 2:00 every Saturday afternoon.
Tours are held in German at 3:00 every Tuesday, Wednesday, Thursday and Saturday afternoon and at 11:00 every Sunday morning.