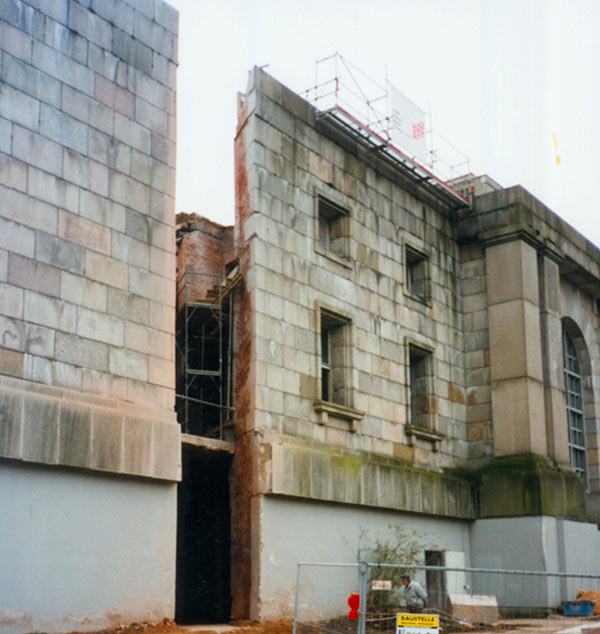 Big changes are ahead for the Documentation Center in the next few years:
Expansion of the Documentation Center
After nearly twenty years of well-received work, the building is in need of an expansion to address its growing range of tasks and meet current technical standards for museum-based educational institutions in Germany. The Documentation Center was originally designed for some 100,000 visitors a year, but that volume is expected to grow to around 300,000 within the medium term. So an expansion of the areas for the general public, as well as the exhibition and teaching spaces, is becoming essential. The expansion will make use of the interior of the Kongresshalle. The construction project's overall goal is to offer an innovative museum that brings generations together and provides an inclusive experience in every regard for a rising number of visitors from all over the world.
Permanent Exhibition to be reconceived
The expansion also includes a reconception of the Permanent Exhibition, which opened in 2001. Current results of research, an expanded range of topics, new ways of using digital media, and a changing public call for the presentation to be refocused in line with the times.
Communication concept for the Zeppelinfeld and Zeppelintribüne
In parallel with the construction work by the city's Construction Department, which is to preserve the Zeppelinfeld and Zeppelintribüne for future generations, the Documentation Center is developing a communication concept for this area. Besides opening up the interior rooms with options helping to understand the past, the concept also includes "reflection points" around the grounds, offering new ways of accessing the site's history.
We regret that the expansion of the Documentation Center and the development of the new Permanent Exhibition will result in limitations on visitor traffic and occasional considerable noise from the construction work. So please note:
The current Permanent Exhibition at the Documentation Center will be open to visitors until the end of 2020. Starting May 2021, and probably lasting until the fall of 2023, a specially designed Temporary Exhibition (in two languages, German and English) in the Documentation Center's large Exhibition Hall will present a compact history of the Nazi Party Rallies and the Rally Grounds.
You can still book our moderated educational programs for dates through October 2020. Guided tours of the Permanent Exhibition and of the Rally Grounds will continue as usual until the end of the year. Bookings for educational services for the Temporary Exhibition will also open up for dates from January 1, 2021, onward.
To find out opening hours for the Temporary Exhibition, the new educational services and future access to the building, starting in summer 2020 please check the current information on our website. The construction work will alter the entrance layout; it will not be possible to drive up directly to the building by either car or bus. So please plan on about a 5-minute walk from the parking lot to the exhibition.