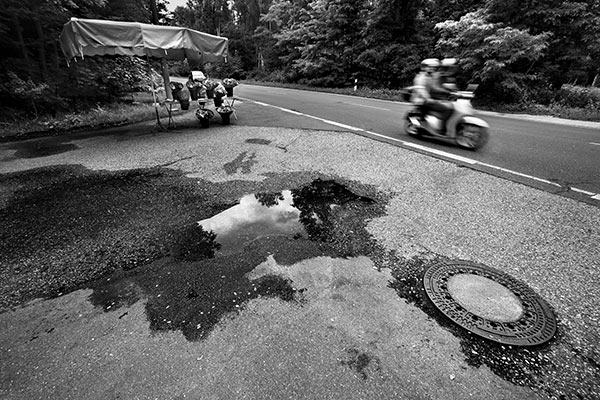 September, 19th, 2019 till February, 23rd, 2020
From 2013 to 2016, photographer Regina Schmeken took pictures at the sites of crimes committed by the National Socialist Underground – a right-wing terrorist organization now most widely known as the NSU. Her largeformat black and white photographs show the unsettling normality of sites where hatred and violence were acted out in the heart of German cities – including in Nuremberg, very close to the former Nazi Party Rally Grounds.
Between 2000 and 2007, the NSU murdered ten people in a variety of German cities: nine men of Turkish or Greek origin, and one policewoman. Others were injured – some of them severely – in two bombings by the NSU. The group itself revealed its own existence only in 2011, with the suicide of two of the perpetrators. This was the first time that the murder victims' families, the bombing victims, and the international public ever heard of the NSU.
Regina Schmeken regards this exhibition as an attempt to channel bewilderment, perplexity and helplessness, as well as rage, and turn them into action. The exhibition's title alludes to the Nazi propaganda slogan "Blut und Boden" ("Blood and Soil"), and thus to the National Socialists' notion that a "healthy state" was founded on a unity between a country's people and its land. The NSU felons invoked this ideology with their crimes – and denied others' right to life. Schmeken's photos preserve the victims' memory, and serve as a reminder that these were not just attacks against our fellow citizens; they were an assault on universal human rights, and thus on our society as a whole.
Regina Schmeken has been working in photography since the mid-1970s. Her photographs have been shown in exhibitions since 1980. She is a recipient of national and international awards, and is one of Germany's most prominent photographers today.
Cost:

Free with admission